Tools for Finishing Edges on Slate Tile
Many people want to install slate tile in areas where the natural edges of the stone must be smoothed out to provide a bullnosed edge for the proper aesthetic, or perhaps even for safety reasons. It is not always efficient to simply install the slate as it is delivered from the manufacturer, but there are a variety of methods available on the market today to help you contour the edges of the tile to fit your personal project completely.
Polishing Kits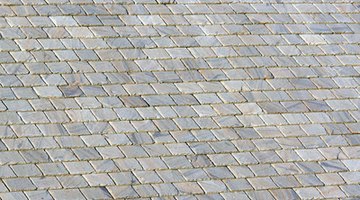 Polishing kits are the preferred method for finishing edges on any type of natural stone, whether it be travertine, marble, granite, or slate. They can be purchased at most flooring stores, as well as your local home improvement store. Most polishing kits are sold in the form of a variable-speed, hand-held, 4-inch grinder with mountable pads or wheels that allow you to contour the edges as you see fit. The reason for the variable speed on the grinder is because most stones need to be polished at a low RPM, while harder stones can use a higher RPM, so having the ability to choose between the two is paramount. This is the preferred method for contouring large areas like the steps leading up to a Jacuzzi tub, where the natural sharp edges of the slate tile need to be rounded off and bullnosed for the proper aesthetic.
Pads and Wheels
Every polishing kit comes with 4-inch pads or wheels which can be attached to the hand-held grinder. Each set will come with an assorted number of pads and wheels, ranging from abrasive to soft. The purpose of the roughest pads and wheels is to smooth out the roughest angles on the edge of the stone, with an individual making additional passes over the edge using progressively softer pads and wheels until they have obtained the desired angle and finish.
Wheels and pads are meant for different types of stone. Pads are generally reserved for softer stones, such as travertine and slate, while wheels generally consist of some form of diamond-abrasive compound that is reserved for the hardest stones, like granite and marble. In addition, pads are used in dry-polishing, while wheels can additionally be used for wet-polishing, although this type of application is generally reserved for commercial methods.
While most pads and wheels are included in kits, they can be purchased separately.
By Hand
If the area is small enough, like an alcoved shelf where only one or two tiles need to have their edges smoothed down, hand-held, diamond-abrasive polishing kits are sold. Similar to the polishing kits including pads and wheels, they come with an assortment ranging from rough to soft.
Writer Bio
Tim Anderson has been freelance writing since 2007. His has been published online through GTV Magazine, Home Anatomy, TravBuddy, MMO Hub, Killer Guides and the Delegate2 group. He spent more than 15 years as a third-generation tile and stone contractor before transitioning into freelance writing.
Photo Credits
old slate roof background image by Stephen Orsillo from Fotolia.com
More Articles