How to Bullnose Slate Tile
Slate tiles can be installed in virtually any setting, including vertical walls in an entryway or shower, a bathroom floor, kitchen backsplash, outdoor patio, countertops and tabletops. While some types of slate come with pre-manufactured bullnose tiles to be used at termination points, more often than not they are sold as field tile only, which means you will need to create your own bullnose. Depending on whether you need a straight bullnose edge or a custom bullnose contour that fits to a curved stair, for example, there are a few ways you can create a bullnose edge.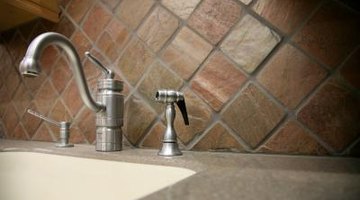 Step 1
Pre-bullnose slate edges for straight termination points such as vertical pieces of steps or countertop edges. Change out the blade on your tile wet saw, and attach a profiling wheel to the saw in place of a normal cutting blade. Run the pieces of tile through the saw with the edge pressed against the profiling wheel to round the edge off and create bullnose edging.
Step 2
Bullnose the edges of an existing installation with a hand-held tile-cutting tool. Attach an appropriate-sized profiling wheel to the hand-held cutting tool, and run it along the straight edges of your installation to bullnose the edges, such as with an existing countertop, island or other area where you have a straight section of slate tiles that needs to be bullnosed.
Step 3
Create custom bullnose edging using a bullnose kit for areas such as curved island countertops or tub surrounds where the vertical tiles terminate in a curved area that requires curved cuts that cannot be profiled with a normal profiling wheel. Attach the roughest pad in the kit to the variable-speed machine, and apply pressure to the pad while you adjust the angle against the edge of the tile until you achieve your desired bullnose look.
Check out this related video from Homesteady on Youtube.
Resources
Tips
Generally, slate tile does not require a polished finish, because it is a rough, natural stone. As such, you only want to use the roughest pads in a polishing kit to profile specialty edges for slate tile. However, if you want to add some polish to the edges, simply work your way down through the progressively softer pads in the kit until you achieve the desired sheen on the bullnosed edge.
Warnings
Avoid using a high-speed setting on the polishing machine unless you are comfortable working with the machine, as a higher setting chews through the slate at a more rapid pace. Always wear safety gear when operating power tools.
Writer Bio
Tim Anderson has been freelance writing since 2007. His has been published online through GTV Magazine, Home Anatomy, TravBuddy, MMO Hub, Killer Guides and the Delegate2 group. He spent more than 15 years as a third-generation tile and stone contractor before transitioning into freelance writing.
Photo Credits
Jupiterimages/Photos.com/Getty Images
More Articles