List of Hand Tools Used in Metalwork
Machinery reduces the effort of cutting and grinding metals, but it can't replace the light touch of the human hand. Traditional metalwork hand tools are still used today. They smooth, polish, cut and abrade metal for projects that range from automotive part repair to jewelry making. The hand tools used in metal work have few, if any, moving parts, and their simple design and construction give them strength and longevity.
Files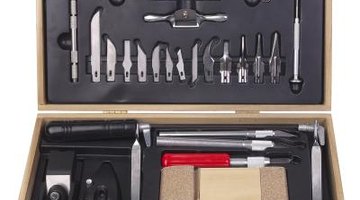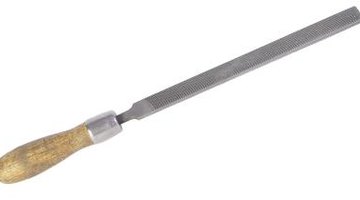 Files, a traditional metalworking tool, are bars of metal covered with serrations or sharpened scales, and are used to smooth, shape and remove metal. Files range in length from a few inches to more than a foot, and appear in a variety of shapes, including cylinders, triangles and rectangles. Constantly pushing a file across a metal surface causes its scales or serrations to abrade metal surfaces.
Hacksaws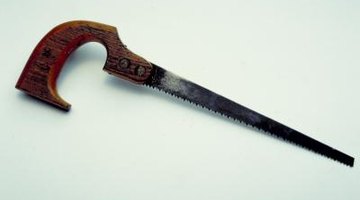 The hack saw is a basic hand-held cutting tool with a sharp-toothed blade that is used to shave away and cut through metals. The hack saw features a C-shaped framed attached to a pistol-grip handle. Blades attach to the open portion of the frame and the metalworker pushes the saw back and forth across pieces of metal. The fine, closely grouped design of the blade's teeth prevent it from catching and halting on tough metal surfaces. Hacksaw blades are categorized according to teeth per inch, i.e. more teeth for harder metal and less teeth for softer metal.
Mallets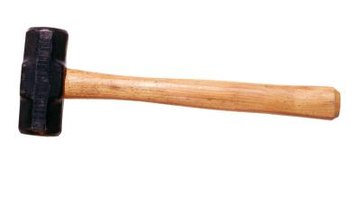 Metalworkers use plastic, wooden or rubber-headed mallets to shape, form and pound metal into place. Whereas metal-headed hammers leave noticeable strike marks on a metal surface, the blow of soft-headed mallets produces few dents and surface blemishes.
Dollies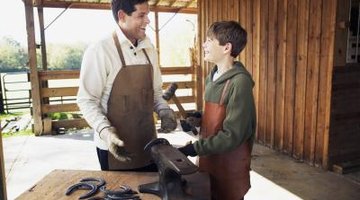 The dolly is the antecedent of the anvil; metal is placed upon a dolly and pounded for shaping and smoothing purposes. Dollies may be hand-held or placed on stationary surfaces, such as a table. The curved surface of a dolly allows metalworkers to form malleable metal easily and consistently into rounded forms.
Snips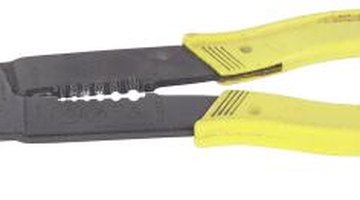 Snips, also called metal shears, are the scissors of the metalworking world. These tools look like bulky scissors with extra-sharp, serrated blades. Snips cut metal roofing, flashing, sheet metal and thin metal plates. Varieties of snips include aviation snips, hawksbill snips and duct snips. Aviation snips, also called compound snips, feature a unique design that takes advantage of leverage to cut manually through thick metal sheets.
References
Writer Bio
Based in Hawaii, Shane Grey began writing professionally in 2004. He draws on his construction experience to write instructional home and garden articles. In addition to freelance work, Grey has held a position as an in-house copywriter for an online retailer. He holds a Bachelor of Arts in theater arts from Humboldt State University.
Photo Credits
Hemera Technologies/PhotoObjects.net/Getty Images
Hemera Technologies/PhotoObjects.net/Getty Images
Ablestock.com/AbleStock.com/Getty Images
Thinkstock Images/Comstock/Getty Images
Jupiterimages/Brand X Pictures/Getty Images
Hemera Technologies/PhotoObjects.net/Getty Images
More Articles