How to Replace a Rotozip Blade
Rotozip tools are good examples of innovative and time-saving tools for construction and home improvement projects. They are lightweight, power cutting tools capable of operating in small spaces. You can cut home building material up to an inch thick with the Rotozip tool, depending on the tool and blade size.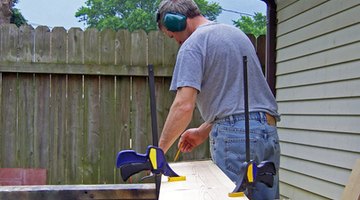 Keeping a sharp bit in the tool is important for making a clean cut with the saw. For countertops and other finish work, a sharp blade is necessary.
Things You Will Need
Rotozip blade
Collet nut wrench
Tip
Using the proper type Rotozip blade or bit for the material being cut provides an easier, cleaner result.
Warning
Do not set the Rotozip tool down until the shaft has stopped turning. Never try to start the Rotozip while the blade is engaged in the material to cut.
Unplug or remove the battery from the Rotozip tool before replacing the blade. Rotozip spiral bits can easily cut fingers while handling and cause severe injury if the tool is accidentally powered on while you're handling the blade.

Grasp the Rotozip in one hand while pressing the shaft lock inward with the other hand. Use the tool wrench supplied with the Rotozip to slightly turn the collet nut to engage the shaft lock.

Hold the shaft lock in, and loosen the collet nut until the spiral blade is loose and removable. Pull the blade out by hand, and set it aside.

Install the new blade into the collet, and tighten the collet nut with the collet wrench provided with the Rotozip tool. Keep the shaft lock pushed in while tightening the collet nut until the spiral blade is secure in the tool.

Release the shaft lock, and slightly turn the collet nut by hand to make sure the lock is released. Operating the Rotozip with the shaft lock engaged will damage the tool.
References
Writer Bio
Damon Hildebrand is a retired U.S. Navy veteran. He has more than 15 years within the oil and gas industry in both technical and managerial positions. Hildebrand has been a technical writer and communicator for the last four years. He is a certified specialists in lubrication and tribology, as well as a certified maintenance and reliability professional.
Photo Credits
a man marking cut line on lumber image by palms from Fotolia.com
a man marking cut line on lumber image by palms from Fotolia.com
More Articles