Tables and Chairs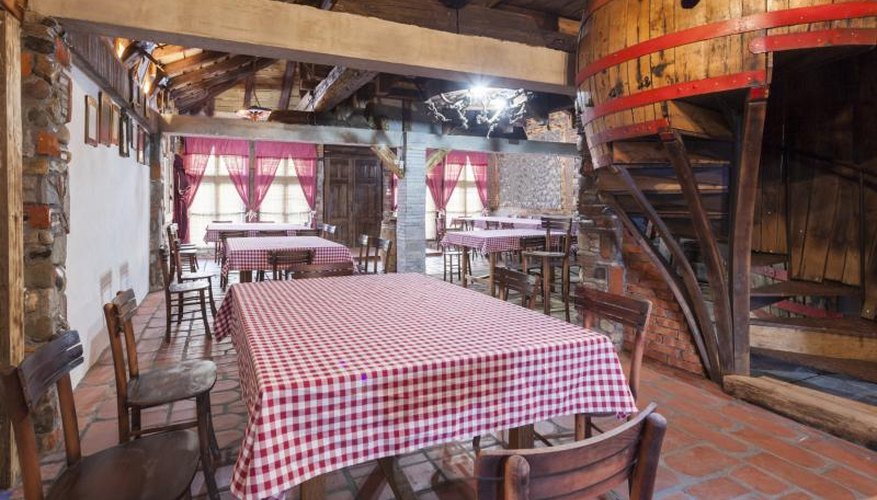 Ideally, their interiors will be reminiscent of classic country dining rooms and provide the same feelings of warmth and comfort. If you are thinking of decorating a restaurant in this style, several ideas can help.
Using tables and chairs made from worn or distressed wood can help create a rustic, lived-in appeal. Sets do not all need to match -- the distressed finishes of the pieces may be enough to tie them together, or you could stain them all the same color. Alternatively, you can use wicker chairs instead of wood, or use picnic-style bench seating. Red-and-white-checkered, plaid or striped tablecloths all work well as country-themed restaurant table coverings. Other options include using multi-colored decorative quilts.
Floors
Restaurants often have expansive floor spaces, which customers will undoubtedly notice. So instead of using cold concrete or more modern-style tiles, stick with the natural choice, wood, which will add warmth and texture to your country restaurant. Consider using salvaged wood floorboards to give an instant antique look and charm.
Accessories
The character of your restaurant also depends on the items you use to decorate it. For a country kitchen look, try potted plants. You can hang these and place them on windowsills and shelves. Other options include fresh flowers in vases, woven bowls and baskets filled with vegetables or fruit, and copper pots and cookware. You may also want to consider hanging up some wooden spoons and adorning shelves with antique items, like tin canisters.
Exterior Options
If your country-style restaurant is going to have a patio or outside eating area, there are several ways that you can infuse it with country charm. Leaving natural finishes on outdoor woodwork is a good option, although you may also want to consider complementing it by painting some sections a pale blue. Try sticking with light, cream-colored chairs and tables to increase brightness and warmth, and make exterior walls more stimulating by adorning them with shelves of potted plants.