Shower Heads That Reduce Rotten-Egg Smell
Chemicals and minerals in water can cause odors to enter your home. It's especially discouraging when the water you are bathing in smells like rotten eggs or something equally unpleasant. The answer is to put filtration systems into play that will reduce or remove the chemical or mineral that is producing the unpleasant odor.
Royal All-in-One Shower Head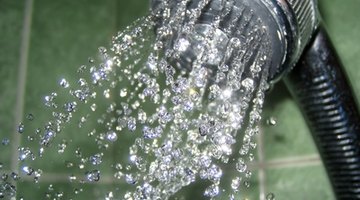 The Royal All-in-One Shower Head ( available from online retailers Gaiam.com and Allergy Buyers Club.com) is a shower head that filters minerals and chemicals to reduce unpleasant odors in water. The shower head contains a long-lasting, reversible high-flow filter that has been certified by NSF International, founded as the National Sanitation Foundation in 1944 in Ann Arbor, Michigan, a not-for-profit public health and safety company. This shower head not only removes unwanted material from the water but offers multiple settings and angles. the filters are made to last approximately six months and are replaceable.
Culligan Filtered Shower Heads
Culligan filtered shower heads are available from local or online Culligan product dealers. Culligan states that these products reduce chlorine, scale and sulfur odors, which are the cause of the rotten-egg smell in your water. Culligan filtered shower heads come in wall-mount and handheld models and feature long-lasting replaceable charcoal filters.
Sprite Universal Shower Head Filters
If you like your current shower head, but need mineral, chemical and odor-reducing properties, look no further than Sprite Universal Shower Filters. These filters are manufactured to work with your current shower head and are installed above the head on the pipe that leads from the wall into your shower. Adding the filter system will extend your shower head approximately 1.5 inches lower than its current position. These long-lasting, replaceable filters are made to adapt to any style of shower head, including handheld models. The filters are available from Sprite Water.com.
References
Resources
Photo Credits
More Articles