How to Replace Culligan Water Filters
Culligan has been making water filtration systems since the late 1930s. Today Culligan is one of the largest manufacturers of water filters with several hundred dealers in many different countries.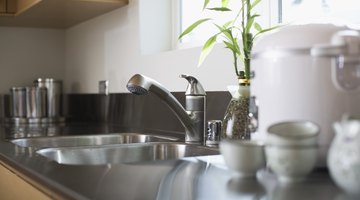 It does not matter if you get your water supply from a well or from a municipal supply, a filter is your answer for clean drinking water. Regular maintenance of your Culligan system includes periodic replacement of the filter cartridge to maintain your water quality.
Tip
Depending on your particular model of Culligan filter, you should replace your filter cartridge every six months to one year or when you notice a change in the taste or odor of your water. Install your Culligan water filter on the cold water supply line only. Warm or hot water sitting in the filter for periods of time could induce bacteria growth.
Warning
After several days of non-use, it is recommended that you flush the filter out before using your water by letting the water run for at least 10 minutes. The service life of your Culligan water filter head is no more than 10 years. The filter head should be replaced within this time period to prevent expensive water damage to your home from filter head failure.
Turn off the cold water supply to the filter by turning the spigot handle in the under-sink cabinet where your filter is located in a clockwise direction by hand.

Open the cold water tap at the sink until water stops draining from the faucet.

Put a towel underneath the filter cartridge in the under-sink cabinet to catch any water that may spill when you remove the cartridge.

Turn the entire filter cartridge by hand so that the arrow on the filter points from the "Locked" position to the "Unlocked" position on the filter head.

Slide the filter cartridge gently downward to release it from the filter head and discard it.

Slide a new filter cartridge upward onto the filter head with the arrow pointing to the "Unlocked" position on the filter head. Turn the cartridge by hand until the arrow points to the "Locked" position.

Turn the cold water supply back on by turning the spigot handle in a counterclockwise direction. Turn the cold water tap on at the sink, and let it run for 10 minutes to flush the system out.
References
Photo Credits
Brand X Pictures/Brand X Pictures/Getty Images
Brand X Pictures/Brand X Pictures/Getty Images
More Articles