How to Change a Kitchenaid Refrigerator Water Filter
This step by step article will guide you through changing the water filter on your KitchenAid side-by-side refrigerator Model KSBP25IVSS.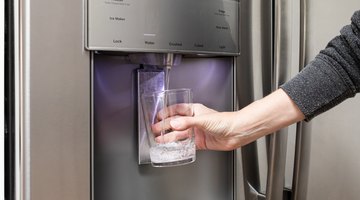 You'll need:
KitchenAid Filter
Part # 4396711
Hand Towel
The filter status display will help you know when to change your water filter. When the display reads 10%, order a new filter. It is recommended that you replace the filter when the display reads 10% or when water flow to your water dispenser or ice maker decreases.

The filter should be replaced at least every six months depending on your water quality and usage.

Press the eject button to release the filter from the base grille.

Pull the filter straight out.

Turn the cap counterclockwise to remove it from the filter. IMPORTANT: Do not discard the cap. It is part of your refrigerator. Keep the cap to use with the replacement filter.

Align the ridge on the cap with the arrow on the new filter and turn the cap until it snaps into place.

Remove the protective covers from the O-rings. Be sure the O-rings are still in place after the covers are removed.

Push the filter into the base grille. The eject button will pop back out when the filter is fully engaged.

Flush the water system. Use a sturdy cup or glass. Depress and hold the water dispenser lever for five seconds, then release it for five seconds. Repeat this process until water begins to flow. Once water begins to flow, continue depressing and releasing the dispenser lever. Hold down for five seconds and then release for five seconds. Do this on/off process for about two minutes. This will flush air from the filter and water dispensing system.

TIP: To order replacement filters, call KitchenAid at 1-800-442-9991. You can also find numerous filter replacement stores online
Writer Bio
This article was written by PocketSense staff. If you have any questions, please reach out to us on our contact us page.
More Articles