How to Clean Your Haier Dehumidifier Filter
Haier dehumidifiers are available in a variety of sizes and models with slightly different features and functionality. Every Haier dehumidifer has an air filter that helps keep dust, debris and allergens out of the air that cycles through the unit.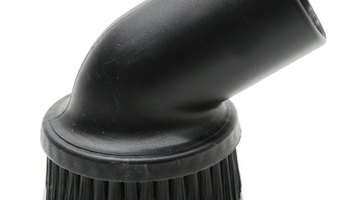 Haier recommends checking and cleaning the air filter in the dehumidifer at least every two or three weeks when the unit is being used.
Things You Will Need
Vacuum cleaner with hose attachment
Dry cloth
Unplug the unit from the electrical outlet. Lift the water bucket by the handle and set aside.

Grasp the top of the filter toward the front of the unit. Pull the filter up and out of the unit.

Vacuum the filter with a hose attachment to remove dirt and particles.

Run the filter under clean tap water until all visible dirt and debris are gone. Dry with a clean cloth.
References
"Haier Dehumidifier User Manual;" Haier America Trading, LLC; 2009
Writer Bio
David Clair began writing for websites in 2001, creating online marketing content for business owners. He has written for Internet companies including eBay and creates training materials for an online education company. Clair is studying technical writing and pursuing an Associate of Arts in information technology from the University of Phoenix.
Photo Credits
brush image by Albo from Fotolia.com
brush image by Albo from Fotolia.com
More Articles