How to Clean Your Dyson Animal Vacuum Cyclone Component
The Dyson Animal is the best vacuum out there to clean carpeted or uncarpeted homes. It's intended for pet owners who have a lot of hair to pick up, but works for all types of vacuuming. Sometimes your purple Dyson Animal vacuum starts to smell strongly of dust or your pet and lose a little suction.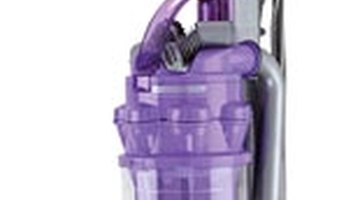 This means it's time to rinse out its cyclone component. The built-in plastic cyclone mechanism within the clear canister always provides great suction, as long as you maintain it with a thorough rinsing every three to five uses. It's a simple process, but allow about two days for the filter to thoroughly dry before re-inserting it in the vacuum.
Things You Will Need
Dyson Animal Vacuum
Sink with running water
Tip
Check out http://www.Dyson.com to see this process done on your particular model, and learn more about how to keep your Dyson in perfect sucking shape.
Warning
Some parts of your Dyson's system should never get wet. See your user's manual for all instructions on your particular model.
To clean the cyclone component, remove the clear bin and cyclone component, just as if you were emptying a canister of dirt.

Make sure the bin is empty, and separate it from the upper cyclone component.

In a large sink, run lukewarm water over the entire grid of small filtering holes, spinning the unit to allow rinsing of each section of holes until the water runs clear.

Next, spray or pour water into the main hole at one end of the unit, pour it out and repeat until the water runs clear.

To make sure you've gotten everything, fill the unit again part way, cover the large hole with one hand, and gently shake the unit to agitate water inside the cyclone. This rinses any last patches of dust or dirt from the interior. Pour it out and repeat until the water runs clear.