Acne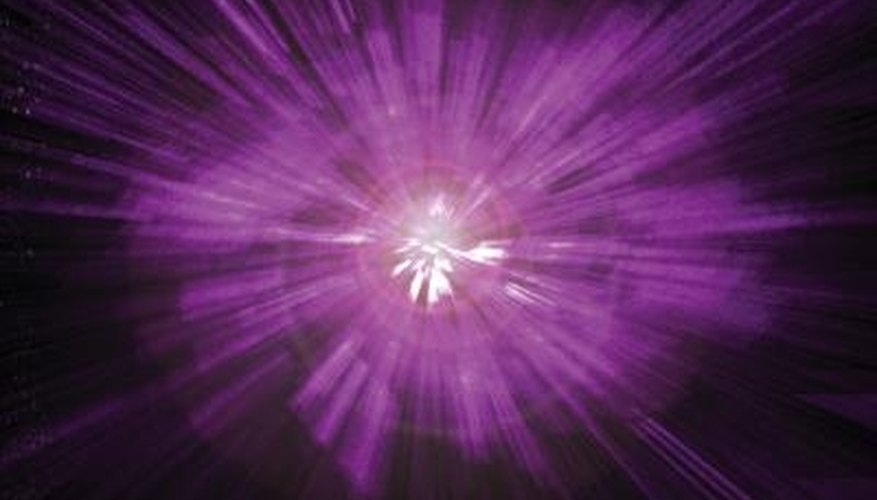 The violet ray device is usually a handheld unit with a glass applicator that emits a high-frequency purple light and warmth. The light wand is applied to different places on the body to help with a variety of conditions. While not a conventional method of treatment today, there are those who use the violet ray to relieve many conditions.
Violet rays are known to heal skin tissue. Because of this ability, dermatologists and other skin specialists sometimes use violet ray devices to treat patients with acne. Patients can use the smooth electrode attachment on a violet ray device and apply it to the affected areas for five to seven minutes through a thin cloth, such as a handkerchief, to heal acne, according to the Electroherbalism website.
Alopecia
Alopecia is a condition that causes baldness or thinning hair. Beauticians sometimes use the violet ray on the scalp of balding people to help stimulate hair growth. A comb attachment is often available for home handheld violet ray devices. The comb is pulled through existing hair or across a bare scalp for around five minutes per day. According to the Electroherbalism website, the violet ray is also effective in returning gray hair back to its original color.
Headaches
Direct application of a violet ray to the center of the painful area of a headache can relieve the headache in just 10 minutes in many cases. This easy headache remedy works by loosely holding the ray against the head until relief comes.
Poor Circulation
In as little as one minute, and up to a half-hour treatment, violet ray devices can rush blood to oxygen starved tissues and stimulate lymphatic and capillary circulation, according to the Cayce website. Violet rays are used to treat many conditions related to poor circulation. Over the course of six weeks of daily treatment, the website says a man with poor circulation will become more physically and mentally fit and his body will be more ready to complete physical activities.
Hemorrhoids
A violet ray device is useful in reducing and relieving hemorrhoids in patients willing to undergo daily treatment with a rectal tube. The rectal tube is inserted for five minutes each day as a way of coping with severe discomfort caused by the condition.