Places to Pick Rocks for My Garden in Oregon
Thundereggs, egg-shaped geode lava formations containing solid agates, are the official state rock of Oregon. They are just one of many geologic formations in the state that include gold, opals, quartz, and Oregon sunstone crystals that can be faceted into gemstones. Oregon is also home to a variety of sandstones, cobble gravel, basalt formations, lava rocks and pumice, fossils, garnets and mica, which can be harvested on select public and private lands.
Fossils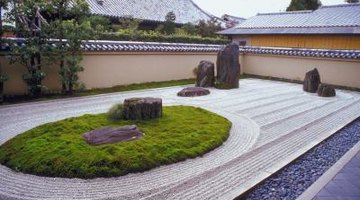 Find fossil rocks along the highways throughout most of the state, especially near the towns of Fossil and Vernonia. The Oregon Department of Transportation (ODOT) allows fossil collection from road cuts on ODOT right-of-ways, as long as excavation of the fossils does not compromise the road bed or cut.
Petrified Wood
Collect up to 250 pounds of petrified wood a year on Bureau of Land Management (BLM) public lands without a permit, in lots no larger than 25 pounds per day. Central Oregon's Prineville region is known for its petrified wood abundance.
Obsidian
BLM has set aside the Glass Buttes area near Prineville specifically for obsidian collecting and allows obsidian collecting on most BLM-managed property. No permit is required if what you collect weighs less than 250 pounds and is not for use commercially.
Sunstone
BLM land near Lakeview is home to ample quantities of sunstone. Some areas are designated for sunstone collection. Do not use power equipment or explosives to extract the stone or remove more than 250 pounds without a permit.
Agates and Thundereggs
Madras is home to the 4,000-acre Richardsons Rock Ranch. Travel to its many excavation beds by car or truck for easy or difficult harvesting, based on your preference. Collect whatever you want from the designated areas; the facility charges by the pound when you exit the property.
Other Rocks
For pumice, river rocks, lava rock and every other type of Oregon stone, look first to BLM and the U.S. Forest Service, as they generally permit rock and boulder collection. Most state managed and U.S. Park Service lands allow some collecting by permit. Generally, you may not collect large rocks from Oregon beaches or harvest any quantity of smaller ones. To collect rock on private land, always obtain permission of the owner in writing. If your rock-collecting area exceeds 5,000 cubic yards per year, you need to obtain a surface mining permit from the State of Oregon Department of Geology and Mineral Industries.
References
Resources
Writer Bio
A southwesterner, outdoorsperson and avid gardener, Patricia Rae Linn started writing professionally in 1986. She was editor of American Sailor, Downeaster and Rags magazines, is a seasoned copy writer having owned a marketing agency for 22 years, and is a Colorado State University certified Master Gardner.
Photo Credits
Jupiterimages/Photos.com/Getty Images
More Articles