How to Repair a Bleach Mark on a Laminate Countertop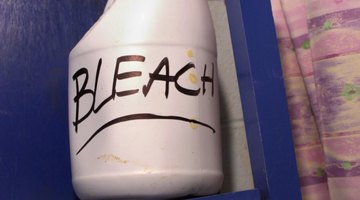 Bleach can work wonders on everything from laundry to bathroom fixtures, removing stains and leaving these items sparkling clean. When used on laminate countertops, however, bleach can leave ugly stains or discolorations that can detract from the overall look of your countertops and kitchen. Fortunately, handy homeowners have several options when it comes to removing or repairing bleach stains on laminate countertops.
Homemade Cleaning Pastes
Some homemade cleaning products may be able to draw bleach stains or discoloration from laminate. Start by mixing baking soda and water to form a paste. Spread the mixture onto the stain and allow it to sit for 3 to 5 minutes. Gently wipe away the paste with warm water to check the results, but avoid scrubbing to minimize scratches and abrasions. If this mixture doesn't work, blend equal parts hydrogen peroxide, cream of tarter and any non-chlorine, non-abrasive powder to form a paste. Apply the mixture to the stain for 30 minutes and then wipe the area gently with a soft, wet rag to see if the stain is gone.
Touch-Up Sticks
If bleach has completely stripped the color from laminate, opt for a laminate touch-up kit to replace the color on your countertop. These kits come in a variety of colors; however, you may have to mix multiple kits to match the color of your laminate. They typically come with some form of fill stick or marker that you can rub gently over the stain to mask bleached or discolored areas.
Consider Refinishing
If your countertop suffers from large unsightly bleach stains, refinish the laminate, using a refinishing kit designed for laminate countertops. These kits require you to sand the surface, roll on a coat of special paint and then broadcast a texturizing product over the surface before sealing the countertop. Some kits are designed to give countertops a granite-like appearance; others feature simple finishes in solid colors.
Remove and Replace
When cleaning and touch up just won't cut it, you may have to remove and replace a laminate countertop to get rid of ugly stains. Removing just the thin laminate layer from the countertop is relatively simple, especially if the stain is along the edge banding. Find a matching section of laminate, cut it to fit your countertop, then secure it to the substrate with a laminate adhesive. If the stain is on the surface of the laminate and you'd prefer not to add extra seams to your countertop, remove and replace both the substrate and the laminate layer on top. As of 2014, plan to spend $3 to $100 per linear foot, depending on the type of laminate and the profile. Add $15 to $35 per hour for labor, according to the National Association of Realtors.
References
Writer Bio
Emily Beach works in the commercial construction industry in Maryland. She received her LEED accreditation from the U.S. Green Building Council in 2008 and is in the process of working towards an Architectural Hardware Consultant certification from the Door and Hardware Institute. She received a bachelor's degree in economics and management from Goucher College in Towson, Maryland.
Photo Credits
Thinkstock/Stockbyte/Getty Images
Thinkstock/Stockbyte/Getty Images
More Articles