How to Polish a Composite Countertop
Composite countertops are made from the combination of several distinct materials, and therefore don't fall under the classification of a laminate or solid surface. Most composite countertops are made from recycled materials, making them an eco-friendly choice. Polishing your composite countertop may take a little extra work because they do tend to scratch more than popular materials like granite.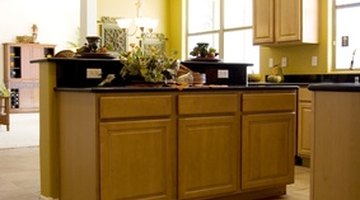 Pour two cups of bleach into a clean, empty spray bottle. Add two cups of warm water to the spray bottle. Shake gently to mix the ingredients.

Spray the counter with the bleach solution to clean and disinfect it. Wipe down the countertop with a clean cloth.

Add a liquid abrasive cleaner to the countertop and buff the cleaner in with a sponge. This will remove any little scratches on the countertop. Rinse off the sponge with warm water, then rinse the countertop.

Apply composite cleaner to the countertop to finish the polishing process, then wipe down using a sponge. Rinse the cleaner off and dry with a clean cloth.

Bring your countertop to a shine using a furniture polish. Furniture polish can be safely used on a composite countertop to make it smell great and bring out its natural shine. Wipe excess polish off using a lint-free cloth.
References
Writer Bio
Andrea Griffith has been writing professionally since 2005. Her work has been published by the "Western Herald," Detroit WDIV, USAToday and other print, broadcast and online publications. Although she writes about a wide range of topics, her areas of expertise include fashion, beauty, technology and education. She holds a Bachelor of Arts in journalism and English from Western Michigan University.
Photo Credits
More Articles