How do I Replace the Light in a GE Profile Advantium 120?
The GE Profile Advantium 120 microwave oven is an over-the-stove microwave that is no longer in production. The microwave oven included a special feature called "Speedcook" that cooked food approximately four times faster than a traditional microwave. Because of the over-the-stove design, the microwave oven also had a light and hood fan on the bottom. These were designed to provide light on your stove and to clear and vent smoke and other fumes. After prolonged use, the light burns out and requires replacement, which can be done without the need for a service call.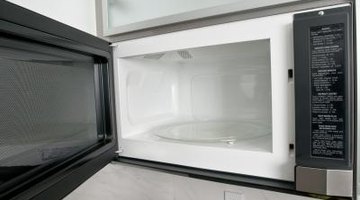 Unplug the microwave from the wall outlet, or turn off the breaker.

Remove the screw from the right side of the light compartment, located on the underside of the microwave oven, then lower the cover.

Pull the bulb out of the light socket gently, then push the new bulb into the socket.

Raise the light cover back to its original position, then re-secure it using the screw that was originally removed.

Re-connect power to the microwave to complete the installation of the new light bulb.
References
Writer Bio
Andrew Todd has been writing since 2006. He has written for the Consumer Search website and the U.S. Attorney's Office for the Middle District of Florida. Todd has a Bachelor of Science in criminal justice from the University of Central Florida.
Photo Credits
Jupiterimages/Photos.com/Getty Images
More Articles