Outside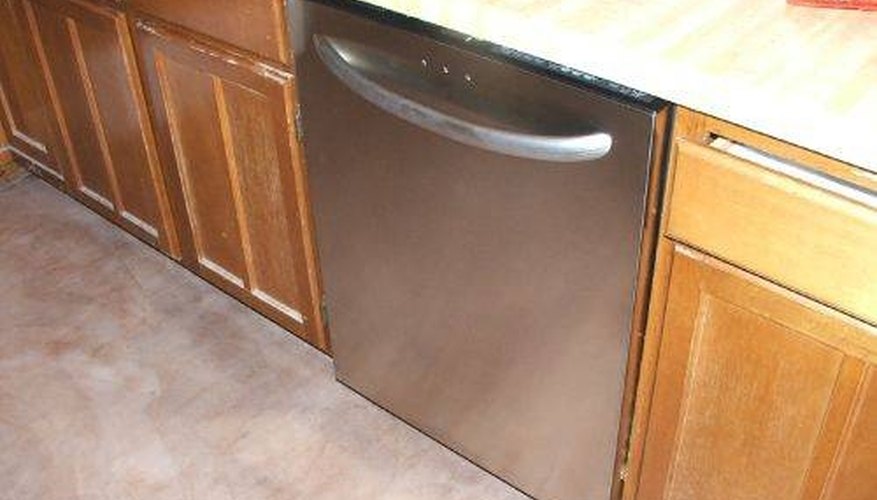 However, stainless steel easily gets dirty. Fingerprints and water streaks are the most common culprits, especially for dishwashers that are handled regularly and are near the sink. Many dishwashers now have a stainless steel tub inside. Fortunately, cleaning the inside and outside of a stainless steel dishwasher is easy, but before you try any technique, you should read your owner's manual and adhere to its advice, especially if your dishwasher is still under warranty.
First of all, always rub in the direction of the grain, otherwise you may scratch the stainless steel. Begin by cleaning the stainless steel door with warm soapy water. Use a few drops of mild dish detergent mixed with a gallon of warm water. Soak a soft rag, wring it out, and clean the stainless steel. Rinse with a clean wet rag. You can also spray on a glass cleaner and wipe clean with a soft rag, or use vinegar instead of soapy water.
Inside
If the tub of your dishwasher is stainless steel, just using your dishwasher should keep it clean. However, if you start to notice stains caused by hard water build-up or from silverware touching the tub, run an empty load on its normal cycle. After a few minutes, place an eight ounce cup filled with pure lemon juice in the upright position on the top rack. Finish the cycle. This will get rid of hard-water stains.
Considerations
To restore shine to stainless steel, rub a little baby oil on it or use stainless steel cleaner. When using stainless steel cleaner, rub it in with one rag and then wipe it off with a clean one.