Bathroom Entrance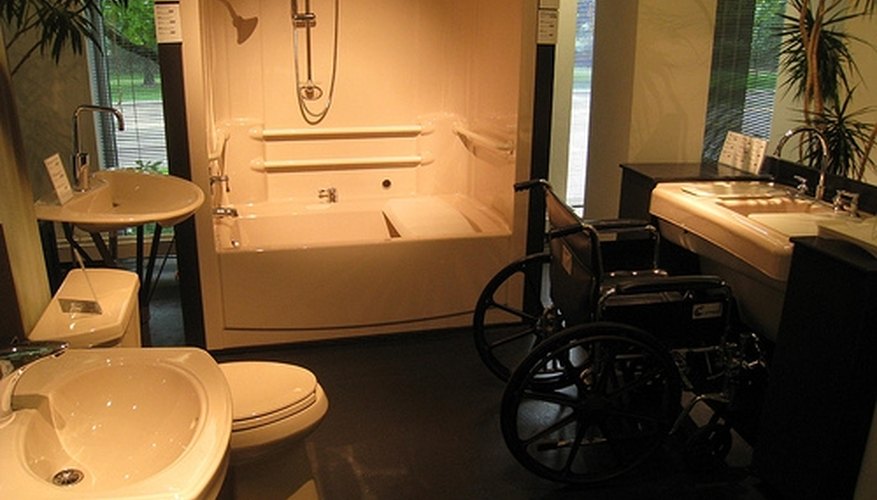 A properly designed bathroom will be safe, comfortable and pleasant to use. A well-designed bathroom will make it easier for a handicapped person to take care of their own hygiene needs.
The entrance to the bathroom should allow easy entrance and exit and be on the same level, requiring no steps up or down. An entrance of at least 32 inches wide may be fine, however, 36 inches wide is better and will more readily accommodate a wheelchair. The entrance can be designed as a wraparound that provides privacy but takes more space, with a curtain or sliding door, or with a traditional door outfitted with hardware that is easy to use. If you choose a door that locks, make sure it can be unlocked from the outside.
Toilet Height
A higher toilet seat is easier for a handicapped person to use. The ideal height is 18 inches. The standard height is between 15 and 17 inches. You can install a handicapped toilet that is built to a higher height, or use a toilet seat add-on to raise the seat height. There should be grab bars on at least one side of the toilet. If persons of size will be using the toilet, do not place it too close to the wall or place the grab bars too close together.
Sink Access
For a tall person who has trouble bending, place the sink at a 40-inch height. For a person in a wheelchair, place the sink at a height of between 30 and 34 inches. There should be ample space underneath the sink for a person in a wheelchair to roll up to the sink. The faucet handles should be easy to reach and to turn. Make sure there is a mirror mounted low enough for a seated person to be able to use as well.
Bathing
Conventional bathtubs present a number of issues for the handicapped individual. Two better options are walk-in bathtubs and walk-in showers. When using a walk-in bathtub, you will enter the tub before it begins to fill, and you will need to remain in the tub until the water has drained. Consider purchasing a tub that is designed to empty rapidly. If you want a walk-in shower, it should be on the same level as the rest of the bathroom, have grab bars and be large enough to accommodate a wheelchair designed to be used during bathing. Alternately, you can install a seat in the shower. Consider the advantage of a handheld shower. Choose a flooring surface that is resistant to slipping, even when wet.