Prepare Surface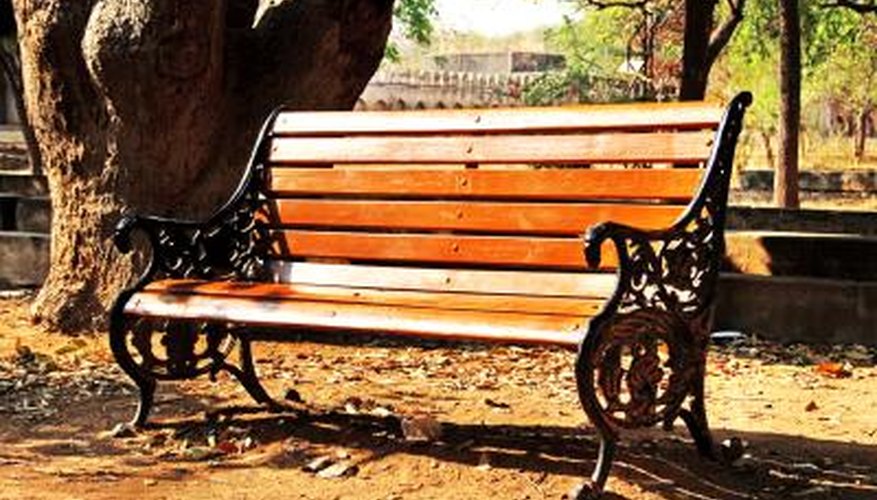 Stain, paint and other finishes are easy to apply to the surface of an outdoor wooden bench.
Sand the surface of your outdoor wooden bench with a fine-grain sandpaper so that the fresh wood is exposed and can more easily absorb any stain or finish you apply to it. Make sure every areas is sanded by checking to see if there is a thin film of sawdust evident on all surfaces. Wherever there is no sawdust, sand that area.
Wipe down the surfaces of your wooden bench with a clean, soft rag, removing all loose sawdust and dirt. You may need to use a small amount of wood soap to clean off excess dirt, but if you do go this route, allow your bench to dry thoroughly before applying a finish.
Apply Finish
With a small paintbrush or mini roller, apply stain, paint or finish to your outdoor wooden bench. Stain will make the wood a different color, depending on what type of stain you use, so make sure you want your outdoor bench to change shades slightly before applying it.
Apply all stain, paint or finish evenly all over your wooden bench, especially where pieces of wood join around wooden screws, because these areas are the most vulnerable to weathering. Allow the first coat to dry, and then add a second coat to make the finish stronger and cover any places you may have missed with the first coat.
Reapply
Most finish holds onto outdoor wood benches for at least a couple of years but needs to be replaced eventually, depending on how much weather your bench is subjected to. Lightly sanded off or even power wash your bench to properly remove all old finish, paint or stain. Once it is removed and the bench surface has dried, follow the same process used to apply the first finish. Continuing to add finish to the bench's surface will help it last outdoors for many years in the sun, rain and snow.