What Is a Door Sweep?
Table of Contents
A door sweep is a small piece of plastic or rubber, attached to an aluminum carrier strip and fitted across the bottom of a door. It provides a weatherproof seal and prevent drafts from coming in under the door.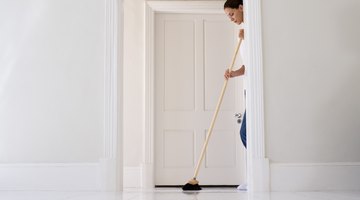 Types
Types of door sweeps include single-seal, triple-seal and automatic. Automatic door sweeps are spring-activated to lift, when the door is pulled open, to clear carpets and rugs.
Significance
A door sweep can be used for weatherization purposes on exterior and interior doors. This, in turn, will reduce heating and cooling costs.
Considerations
For quick installation, there are adhesive door sweeps. An adhesive door sweep is cut to size, the backing is peeled off, the door sweep is positioned and then pressed into place.
Function
A door sweep can be adjusted to close the uneven gaps found on sagging doors.The 2 1/8-inch height of the triple door sweep will help seal large and small gaps on old or new doors.
Features
In addition to keeping out drafts, door sweeps keep out crawling insects. Popular colors are gray, white and brown.
References
Writer Bio
Carolyn Green has been a freelance writer since 1989. She has written for BETweekend, Good Old Days, Baby's World and more. A teacher from New York, she also taught in Seoul, where she wrote for a Korean publication. Her passions include world travel, nutritional research and alternative medicine. She holds a Bachelor of Arts in English literature from State University of New York, Old Westbury.
Photo Credits
Jupiterimages/Polka Dot/Getty Images
Jupiterimages/Polka Dot/Getty Images
More Articles