How to Sand a Door Frame
Doors that stick inside the door frame can become very annoying. It can take muscle power to open and close a door that does not fit properly inside the frame. A slight amount of sanding will quickly remove any high points that create a sticking door. Sanding a door isn't hard, and can be accomplished quite quickly if you know exactly what to do.
Sanding Block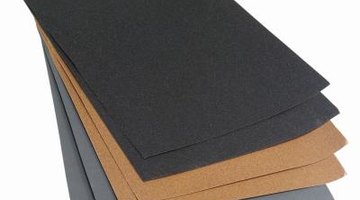 Step 1
Purchase a flat sanding block at a home improvement center. A sanding block evenly distributes the pressure while sanding.
Step 2
Place the sandpaper onto the sanding block. The sandpaper will wrap around the bottom of the block and both ends will attach inside the block.
Step 3
Replace the sandpaper when areas of the paper become bare.
Sandpaper
Step 1
Start sanding the door frame with medium grade (80-grit) sandpaper. Sand until the paint is removed or until the door opens and closes without touching the door frame.
Step 2
Sand the frame again with fine (120-grit) sandpaper. This will remove wood that was scratched during the first sanding.
Step 3
Finish the job with extra-fine (220-grit) sandpaper. Extra-fine sandpaper will leave a smooth finish on the wood.
References
Tips
Perhaps a new coat of paint is in order for the door and frame. Painting over glossy paint will require a small amount of sanding to remove the gloss from the paint. This will ensure that the new paint will adhere properly.
Always sand the wood in the direction of the wood grain.
Writer Bio
Emma Lee owns a photography website and also works as a freelance writer specializing in home improvement, animals and photography. Her work can be found on various websites. Lee attended Charles County Community College located in Maryland.
Photo Credits
Stockbyte/Stockbyte/Getty Images
More Articles