How to Repair a Split Butcher Block Top
It is normal for butcher block countertops to have minor cracks and small splits. This adds to the interest of the wood and is the reason many consumers choose this as their countertop material. However, when butcher block countertops are not oiled properly or after many years of excessive use, they may develop deep splits that require repairs. For large problems, placing a small piece of wood into the split and securing it with an adhesive such as epoxy, may be required. This is a job for professionals as it can be very difficult to patch a split in this manner and still achieve a uniform butcher block look. However, repairing splits that are between 1 to 2 inches wide can be fixed at home by using a wood filler. This is a permanent fix for these smaller splits. Fixing splits in this way, is an easy process that requires only your time and a few inexpensive items.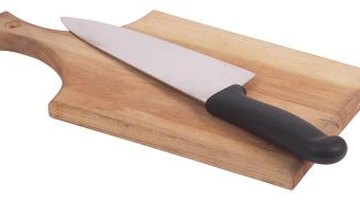 Step 1
Clean the butcher block thoroughly to remove any dirt or debris.
Step 2
Lightly sand any rough edges that may surround the split.
Step 3
Fill the split with a wood filler compound. Wood fillers can be found at hardware and home improvement stores and come in various shades.
Step 4
Smooth the filler and make sure there are no air bubbles. Let the compound dry overnight.
Step 5
Lightly sand the area and apply a butcher block oil to the countertop.
References
Writer Bio
Lacey Roop's articles have been printed in various print magazines such as "UpCountry" where she was a feature writer for four years. She has written pieces for "Bluegrass Now" where her work graced the cover on two occasions. Lacey has a BA in English and has been writing professionally since 2003.
Photo Credits
Hemera Technologies/PhotoObjects.net/Getty Images
More Articles