How to Remove Oxidation From Resin Chairs
Oxidation commonly occurs on outdoor furniture such as resin plastic chairs, and is caused from prolonged exposure to the sun. It can happen to almost any material that is left in the sun for long periods of time including aluminum, fiberglass and even car paint.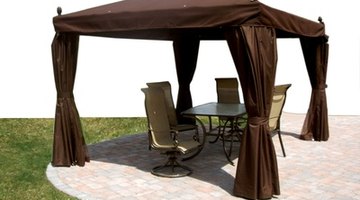 Oxidation will dry out the top layer of whatever the material is and cause it to become dull and hazy. Early oxidation can easily be removed, and the surface of the affected material can be restored.
Things You Will Need
Bucket
Mild detergent
Scrub brush
Towel
Rags
Car or boat polish
Tip
Applying occasional coats of boat or car wax to the chairs will protect them from future oxidation.
Fill a bucket with warm water. Add some mild detergent to the water and mix it in until it begins to lather up.

Wash the chairs thoroughly using a scrub brush to remove any dirt or other buildup. This will remove some of the surface oxidation as well as the dirt.

Rinse the chairs with clean water and thoroughly dry them off with a towel.

Apply the car or boat polish to a clean rag and begin rubbing the oxidized areas. Continue rubbing the polish into the hazy areas until the original shine of the chair returns.
References
Writer Bio
Jason Kurz has been a published writer for eHow.com and Trails.com for less than a year now. Kurz attended Kent State University of Ohio for Computer Aided Design.
Photo Credits
patio image by fotogisèle from Fotolia.com
patio image by fotogisèle from Fotolia.com
More Articles