How Do I Drain the Oil on a Troy-Bilt 160cc Mower?
A Troy-Bilt 160cc mower uses a Honda manufactured engine. These engines are placed on both regular push mowers and self-propelled walk-behind mowers, as well as other products in the Troy-Bilt line.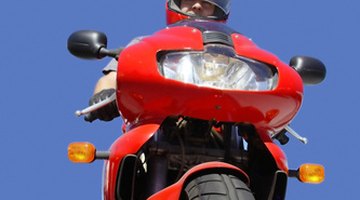 They are distributed through the MTD company, and can be found at many retail outlets around the United States including hardware and department stores. Because of their popularity, parts and supplies for any Troy-Bilt mower can be readily found.
Place your mower on a level surface.

Remove the oil filler cap from the mower. It will twist off easily and can be placed on the side. Wipe it off with a rag before setting it down.

Place the oil pan alongside of your mower directly adjacent to the oil filler spout that you have just removed the cap from.

Grasp the bottom deck of the mower on the side opposite the oil filler spout and tip it onto its side. Aim the oil filler spout so that the oil flowing out pours into the oil pan. Keep the mower tipped until the oil has drained out.

Place the mower back onto its wheels. Refill the engine with oil and check the dipstick to make sure it is full. Screw back on the oil filler cap and properly recycle the oil that has drained into the oil pan.
Tip
Any full service automotive repair garage or hardware store will accept used oil for recycling.
References
Writer Bio
Dale Yalanovsky has been writing professionally since 1978. He has been published in "Woman's Day," "New Home Journal" and on many do-it-yourself websites. He specializes in do-it-yourself projects, household and auto maintenance and property management. Yalanovsky also writes a bimonthly column that provides home improvement advice.
Photo Credits
man on a red bike image by Galina Barskaya from Fotolia.com
man on a red bike image by Galina Barskaya from Fotolia.com
More Articles