How to Get Ink Off of a Flat Painted Wall
Paint is an inexpensive way to refresh or change the decor in any room. Flat paint is commonly used in areas that have low traffic and do not require heavy cleaning.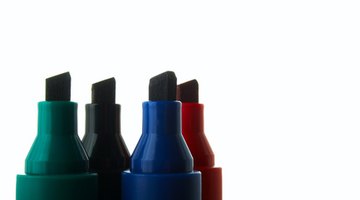 When ink is accidentally wiped or spilled on flat paint; or your little artist decorates your wall with marker or pen, you can end up with a stress-inducing stain. Tend to the ink stain as quickly as possible, working to remove the ink stain completely.
Spray aerosol hairspray on a small or light ink mark on your flat wall paint. Saturate the ink stain with the hairspray, then wipe with a clean, soft cloth. Repeat this procedure a few times until no more ink wipes off the wall.

Squeeze an inch of white toothpaste onto a damp cloth. Rub the toothpaste into the stain. Leave the toothpaste on the wall for 10 minutes to loosen the ink stain.

Rinse your cloth with water and squeeze out the excess liquid. Scrub the wall to work the toothpaste into the stain. Change to a clean part of the cloth and continue to wipe up as much of the ink stain as possible.

Combine 2 cups household ammonia with 1 gallon warm water in a bucket. With gloved hands, stir the ammonia and water to mix the solution.

Dip a fine steel wool pad into the ammonia solution. Gently scrub the wall to remove any remaining ink stain. The combination of the fine steel wool and ammonia will help lift the stain without removing the paint.

Rinse your wall with a cloth dampened with plain water. Then dry with a clean towel.
Things You Will Need
Hairspray
Clean cloths
White toothpaste
2 cups ammonia
Bucket
Rubber gloves
Fine steel wool
Tip
Paint high traffic rooms with a semi-gloss paint. It's much easier to remove stains from this type of paint. Spray ink and other stains on flat wall paint with an all-purpose cleaner and scrub lightly with steel wool.
Warning
Heavy scrubbing of walls painted with flat paint may dull or remove some of the paint, requiring you to repaint the area.
References
Writer Bio
Mary Ylisela is a former teacher with a Bachelor of Arts in elementary education and mathematics. She has been a writer since 1996, specializing in business, fitness and education. Prior to teaching, Ylisela worked as a certified fitness instructor and a small-business owner.
Photo Credits
marker image by dmitry_kim from Fotolia.com
marker image by dmitry_kim from Fotolia.com
Toothbrushes and toothpaste image by lefebvre_jonathan from Fotolia.com
More Articles