The Whirlpool Cabrio Washer's Error Code F1
The Whirlpool Cabrio washer features more than 20 different fault codes that address errors with the washer's multiple functions including electrical problems, water problems and basic maintenance needs. The "F1" error code prevents the washer from operating and is one of the main failures that occurs with the device.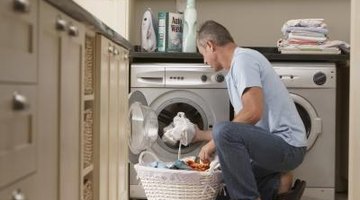 This error requires repair, new parts and most likely service from a trained professional.
Identification
The Whirlpool Cabrio features a small LCD screen so only one part of the error code appears at a time. For the "F1" error, first the "F" will flash on the screen, followed by the "1." When the error occurs for the first time, it may be accompanied by loud beeping.
Error Code Definition
According to Appliance Parts Quick, the error code is defined as a "Primary Control Failure." This means that the small computer installed in the washer has failed to send, receive or communicate with any other part of the washer.
Reset the Code
To stop the flashing and beeps on the washer, hold down the "Start" and " Stop" buttons for 60 seconds. If this does not work, unplug the washer for 30 seconds and plug it back it or leave it unplugged since it is inoperable.
Parts
The main problem is with the machine control assembly. This whole part needs to be replaced. Depending on your model, prices range from $150 to $260, as of 2011.
Process
The installation of the new machine control assembly, requires manual installation and opening the washer itself. If you have never taken apart or repaired a washer, a professional should provide the service and care. Contact Whirlpool support for more information on repairs and warranty.
References
Writer Bio
Alan Donahue started writing professionally in 2003. He has been published in the Norwich Free Academy "Red & White," UNLV's "Rebel Yell" and on various websites. He is an expert on wrestling, movies and television. He placed second in the NFO Screenwriting Contest and received filmmaking awards from Manchester Community College and Norwich Free Academy. He currently attends Academy of Art University.
Photo Credits
Andrew Olney/Photodisc/Getty Images
Andrew Olney/Photodisc/Getty Images
More Articles