How to Stain a Deck
How to Stain a Deck. Staining your deck will keep it looking good - it will restore its natural oils and protect it from ultraviolet rays and water damage. Here are a few steps to help protect your deck from extreme climates and improve its overall appearance.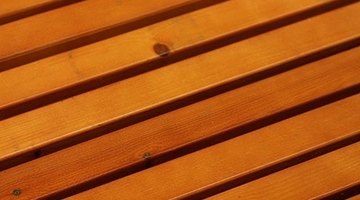 Choose a wood stain in your desired color. Search your local home improvement store for different color selections or use an online color selector.

Thoroughly clean the deck. Use deck cleaner (see Related eHows) or a pressure washer - which uses forcefully ejected water to clean surfaces - for this.

Let the deck dry completely.

Fill a small bucket or rolling pan with the stain.

Immerse a brush or long-handled roller into the stain. Absorb only enough stain for a few strokes.

Roll or brush stain deck. Make sure you apply the stain evenly.

Wipe excess stain or dark spots with rags.

Let stain set for 24 hours.
Things You Will Need
Pressure Washers
Rollers With Long Handle
Brushes
Rags
Safety Glasses
Rubber Gloves
Wood Stain
Paint Roller Pans
Tip
Use a paintbrush for hard-to-reach places. Avoid staining the deck in extreme (hot, cold, windy) weather. Make sure your cleaner is the one designated for the type of wood you are using. For best results use wood bleach to ensure original pigment of wood is acheived in preparations.
Warning
Use extreme care when using a pressure washer - the force of the water can cause injury to people and animals. Follow all the rental company's instructions when using this piece of equipment. Wear safety glasses and rubber gloves. Dispose of stain according to disposal rules listed on the container or disposal sites in your area. Never leave used rags, brushes or containers of stain in the direct sun, or they could combust, creating a fire.
Writer Bio
This article was written by PocketSense staff. If you have any questions, please reach out to us on our contact us page.
More Articles