How to Make Faux Paint Rollers
Adding a faux finish to your walls can add beauty, elegance and sophistication to your house. Faux finishes can increase the overall value of your home, making it more attractive to homebuyers. Hiring a team to custom paint your walls in a faux finish can be costly and time consuming.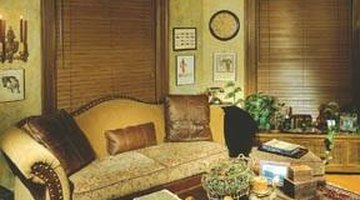 Things You Will Need
Painting Roller
Heavy-duty scissors
Paint
Painting pan
Luckily, you can create professional-quality faux finishes by making your own faux paint rollers.
Buy a paint roller from any hardware or paint supply store. Select a foam-style paint roller instead of a lambskin roller. If you have a used paint roller, make sure that you clean it thoroughly before turning it into a faux paint roller. You can buy more than one paint roller if you have more than one person painting the walls, or if you want differently textured faux walls.

Cut out pieces of each paint roller using a pair of heavy-duty scissors. For a stone-like look, cut out small, chunky pieces from the roller. The appearance should be choppy and textured. For a leather-like look, cut shallow, longer pieces from the paint roller.

Test the look of your new faux paint rollers. Using a painting pan, pour in a small amount of wall paint. Roll the faux roller in wall paint, and apply the paint to your walls. You will see the faux appearance right away. If you want to change the look of the faux painting, wash the paint roller thoroughly and trim a little more material from the roller. The deeper your trimming, the chunkier the faux painting will be.
Resources
Photo Credits
Images Courtesy of Fotosearch
Images Courtesy of Fotosearch
More Articles