How to Clean Nylon Webbing
Nylon webbing is a strong and durable woven fabric used to make seat belts, ropes, climbing harnesses, backpacks and other durable products. Nylon webbing is to make products that, if damaged, could compromise your safety. So it's important that you take care of your nylon webbing.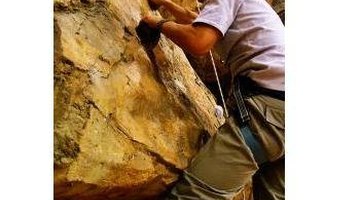 Things You Will Need
Sponge
Warm water
Mild dish detergent
Towel
Here is how to clean most kinds of nylon webbing, but be sure to read the instructions that come with your webbing to see if another cleaning method is recommended.
Wipe off any excess dirt or grime on the nylon webbing with a damp cloth or sponge.

Mix a small amount of mild dish detergent with warm water. Dip the sponge in the mixture and wring out the excess liquid.

Scrub the nylon webbing with the sponge in a back and forth motion. Rinse the sponge in the soapy water as necessary, wring it out and start scrubbing again.

Rinse the nylon webbing with clean water. If you cannot physically remove the nylon webbing to get it into the sink to do this (a seat belt, for example), rinse your sponge in clean water and gently scrub the webbing to rinse it. Repeat until the webbing is thoroughly rinsed.

Towel dry as best as you can and then hang up the nylon webbing to air dry. Do not place it in the sun or near any fumes as that can cause unseen damage and eventually weaken the nylon webbing.
References
Writer Bio
Melissa Lewis is a former elementary classroom teacher and media specialist. She has also written for various online publications. Lewis holds a Bachelor of Arts in psychology from the University of Maryland Baltimore County.
Photo Credits
www.sxc.hu/photo/224039
www.sxc.hu/photo/224039
More Articles