Types of Trim for Indoor Windows & Doors & Walls
Table of Contents
The beauty of trim is its dual purpose. From a practical construction standpoint, it covers the rough edges; and from a decorative standpoint, it can create a certain character or preferred architectural style. There is an unlimited amount of different woods, materials, styles, shapes and sizes to choose from for trimming windows, doors and walls.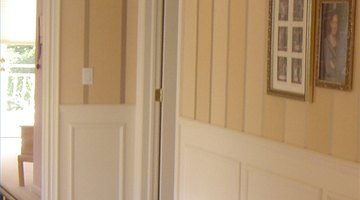 Door and Window Trim
The molding or trim used to frame doors and windows is known as a casing. It's available in sizes ranging from two and a half to six inches in width, and ½ to ¾ inch in thickness. Different looks can be achieved by combining different style moldings, and by adding decorative medallion blocks or rosettes. It is available beveled, thin flat, or butt-jointed with routed edges.
It can also be purchased as a two-piece casing that creates more definition, and a more ornate appearance. Distinctive custom casings can also be purchased by a wood craftsman who specializes in intricate moldings.
Ceiling Molding
Ceiling molding (also known as cornice) is available in a wide array of styles with sizes ranging from two inch wide to custom-made one foot wide trim or larger. Cove molding has a concave (curved inward) profile, while typically, traditional crown molding has a convex (rounded outward) profile. Build up layers of trim from stock lumber, and you can achieve a very dramatic look.
Baseboard and Shoe Molding
Base moldings are available in standard plain square stock (3¼ inch height) to a wider detailed trim incorporating built-up components. It can be as simple or elaborate as you like. Three of the most common moldings are traditional colonial, contemporary and ranch. Shoe molding is typically available in one style, quarter-round trim with a profile resembling a quarter circle.
Wall Paneling
An entire wall can be covered with real or simulated wood sheet paneling; or a portion can have chair rails, frames or wainscoting. Chair rail is a horizontal molding installed about three feet from the floor around the perimeter of a room. It's available in a wide variety of styles and widths. Wall frames, also known as picture frames divide a section of wall into smaller units--the size is determined by the room dimensions. Base cap molding, sized 11/16 x 3/8 inch, is most commonly used for this. Wainscot is paneling that runs about one-third up on a wall.
Other Moldings
Flexible molding is produced from a durable material capable of bending along wall curvatures. It's expensive, but the outcome is beautiful.
Synthetic molding such as plastic foam trim is being used more frequently today. It's cast from carved-wood trim and is available in a multitude of shapes and styles. Unlike labor-intensive decorative wood molding applications, synthetic molding comes out of the box, ready to install.
Considerations
Trim molding is basically available in pine, poplar and oak. If you're painting the trim, it's best to buy the lesser expensive finger-jointed wood--composed of small pieces of wood joined together to form a long piece of trim. Solid trim is a better bet if you plan on staining the wood or using just a sealant.
References
Resources
Writer Bio
Reesa Potash is a freelance writer for Demand Studios, and is the owner of a small building company. She holds a Master of Science in library science from Wayne State University; and a Bachelor of Arts in journalism from Michigan State University.
Photo Credits
More Articles