How to Add Crystal Prisms to Chandeliers
Crystal chandeliers add elegance and charm to any room's décor. You can add crystal prisms to chandeliers not originally designed for hanging crystals.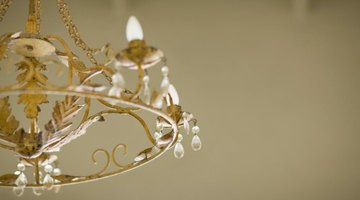 Things You Will Need
Chandelier
Measuring tape
String
Scissors
Crystal strands
Crystal prisms
Spray paint
20-gauge craft wire
Wire cutters
Look for used and unwanted hanging chandeliers at local thrift stores and flea markets, and then transform them into designer originals with spray paint and crystal prisms.
Measure the space between each of the arms on your chandelier. Crystal prism strands are sold in 36-inch sections, which will allow a nice drape between several of the chandelier's arms. Cut a 36-inch section of string and drape it as you like on your chandelier so you'll know how many crystal strands to order.

Select crystal prisms to hang along every curve and dip in your chandelier. You can also purchase bobeches to fit over each of the light bulbs. A bobeche is a glass or crystal tray with six tiny precut holes so you can add more crystal prisms to the chandelier.

Cut five 12-inch sections of wire and spray paint them to match the chandelier. Let the paint dry.

Hang the chandelier in a doorway or low from a ceiling hook. You need to be able to reach around it as you add the crystals.

Slip the bobeche pieces over each of the light fixtures and replace the bulbs.

Cut the 12-inch lengths of wire into 1.5-inch sections. Twist the wire pieces around the arms of the chandelier wherever you'd like to add a crystal prism or connect a crystal strand.

Hang your crystal strands between the chandelier's arms, hooking the ends to the painted wire hangers. Add the crystal prisms onto the tiny holes in the bobeche pieces and from the wire hangers that you added.
Resources
Writer Bio
Katherine Kally is a freelance writer specializing in eco-friendly home-improvement projects, practical craft ideas and cost-effective decorating solutions. Kally's work has been featured on sites across the Web. She holds a Bachelor of Science in psychology from the University of South Carolina and is a member of the Society of Professional Journalists.
Photo Credits
Jupiterimages/Comstock/Getty Images
Jupiterimages/Comstock/Getty Images
More Articles