Life Expectancy of Light Bulbs
Table of Contents
The life expectancy of a typical light bulb depends on a few factors, such as what type of bulb it is (incandescent, compact fluorescent, or light emitting diode) as well as the wattage.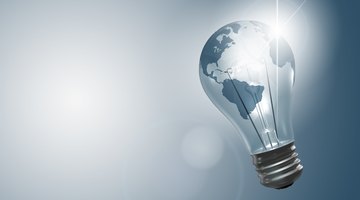 Types
Not all bulbs are created equal. Incandescent bulbs have a shorter lifespan than compact fluorescent lights. The light emitting diode bulb will typically outlast both the compact fluorescent and the incandescent.
Incandescent Bulbs
The lifespan of the average 60-watt incandescent bulb is about 1,000 hours. However, it is important to note that is the median lifespan and not what can always be expected from each bulb of that type.
Compact Fluorescent Lights
Compact Fluorescent Lights (CFLs) are more efficient and can last up to ten times longer than a standard incandescent bulb. Plus, CFLs use about a third of the electricity it takes to power an incandescent.
LED Lights
The most efficient and long-lasting light bulb option is a light emitting diode (LED). LED bulbs last 10 times longer than a CFL and a hundred times longer than an incandescent.
Indetification
When buying a bulb, you can easily identify its expected lifespan. Manufacturers are required to put the "rated life," the industry standard rating system, on the packaging. The rated life is the median hours that bulb produced light during testing.
References
Writer Bio
Kara Fitzpatrick Seymour is a Bucks County, PA based freelance writer with past clients that include an array of print publications, Web sites, and public relations companies. A versatile and creative writer, Fitzpatrick Seymour specializes in everything from lifestyle pieces, to travel features, news, business, the environment and more.
Photo Credits
Comstock Images/Comstock/Getty Images
Comstock Images/Comstock/Getty Images
More Articles