How to Clean a Halogen Light Bulb After It Has Been Touched
A halogen light bulb is a type of incandescent bulb filled with halogen gas. However, halogen bulbs burn longer and cleaner than regular incandescent bulbs. It is important to remember to never touch the glass portion of a halogen light bulb.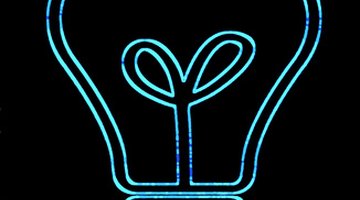 Oils from your hands can weaken the bulb, shorten its life span and possibly even cause it to burst when it is turned on.
Things You Will Need
Soft, lint-free cloth
Rubbing alcohol
Dip the end of a small, lint-free cloth in rubbing alcohol.

Wipe the glass portion of the bulb with the cloth.

Wipe the bulb with a dry, lint-free cloth. Make sure the bulb is dry before installing it.
References
Writer Bio
After accidentally stumbling into a journalism class at University of North Texas, Abby Vaun has been writing ever since. She honed her skills writing for "The Dallas Morning News" and as a copy editor for Earle Palmer Brown in New York City. From Dallas to New York to L.A., she has enjoyed freelancing for 10 years and expanding her knowledge through her profession.
Photo Credits
light bulb image by cherie from Fotolia.com
light bulb image by cherie from Fotolia.com
More Articles