How to Replace 300 Watt Halogen Floor Lamp Bulbs
Tubular, often called double-ended, 300 watt halogen floor lamp bulbs come in two sizes: the 3 inch short version and the 4-5/8 inch version. They are not interchangeable, so be sure you have the right-size replacement. The lamp has a glass protector held in place with two screws. Halogen bulbs run extremely hot. To withstand the heat, your bulb is made of quartz glass. Never touch the glass, as the oils in your fingers could weaken it and cause it to wear out early.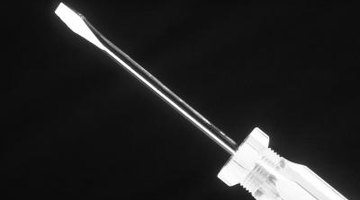 Step 1
Unplug the lamp and make sure the old bulb and lamp are cooled down.
Step 2
Remove the screws holding the glass protector in place.
Step 3
Remove the glass protector.
Step 4
Lift the tubular bulb out of the lamp. It is spring loaded on both sides and should snap out easily.
Step 5
Remove the new bulb from its packaging, but do not touch the glass. Use gloves or wrap the bulb in cloth or a paper towel.
Step 6
Snap the new bulb into position.
Step 7
Replace the protective cover and tighten the screws.
Writer Bio
Richard Asmus was a writer and producer of television commercials in Phoenix, Arizona, and now is retired in Peru. After founding a small telecommunications engineering corporation and visiting 37 countries, Asmus studied broadcasting at Arizona State University and earned his Master of Fine Arts at Brooklyn College in New York.
Photo Credits
Hemera Technologies/AbleStock.com/Getty Images
More Articles