How to Repair Sun Faded Wood Floors
A wood floor can be a beautiful part of your home for as long as 50 years if you know how to take care of it. However, though you may know it is important to polish your floors and to keep debris from scratching the wood, you also must think about sun damage.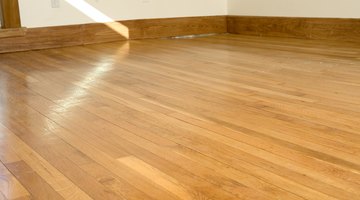 UV rays can hit your hardwood floors for hours every day, and the damage can range from discoloration to a breakdown of your floor's structural integrity. Repairing sun-faded wood floors is an essential part of home care.
Things You Will Need
Safety goggles
Heavy gloves
Sandpaper
Drum sander
Broom
Vacuum cleaner
Tack cloth
Wood stain
Floor sealant
Inspect your floor. If your floor is experiencing damage only in certain places, you will find that simply taking care of those spots or replacing the wood would be adequate. In many cases, though, homeowners wish to create a unified look and thus will take care of the whole floor.

Put on safety goggles and gloves. This is a demanding physical process, and you want to look after your body.

Close all the ventilation ducts in that part of your house. This process will involve kicking up a lot of dust and particles, so make sure that it does not get introduced to other parts of your home through the ventilation system.

Sand your floor with the drum sander. Depending on the condition of your floor, you will likely be starting with a 20-, 40-, or 60-grit sandpaper and then going down to a 120-grit sandpaper as the floor starts to even out and show its original grain.

Clean the floor. Start with the broom, which will allow you to pick up any larger sediment, then use a vacuum cleaner to get the rest of the sediment. Use a tack cloth to pick up any leftover dust or debris.

Stain the wood. You can usually apply the wood stain with a clean cloth. Rub it firmly into the newly sanded, cleaned floor. Read and carefully follow the instructions for your wood stain.

Allow the wood stain to dry thoroughly.

Seal your floor with a wood floor sealant. You can choose between modern options like oil modified urethane, moisture cured urethane or water-based urethane, or you can choose something traditional, like shellac.

Tip

To prevent your floor from receiving further sun damage, close the blinds during the hottest part of the day.

Warning

Be careful with your drum sander. Drum sanders are powerful tools and should only be used with care. If used inappropriately, they can gouge your floor.