In the event of a fire, a fire extinguisher can provide the extra time needed for household members to escape to safety. A dry chemical fire extinguisher is a good choice for the home because it is a multipurpose extinguisher.


---
Fire Extinguisher Categories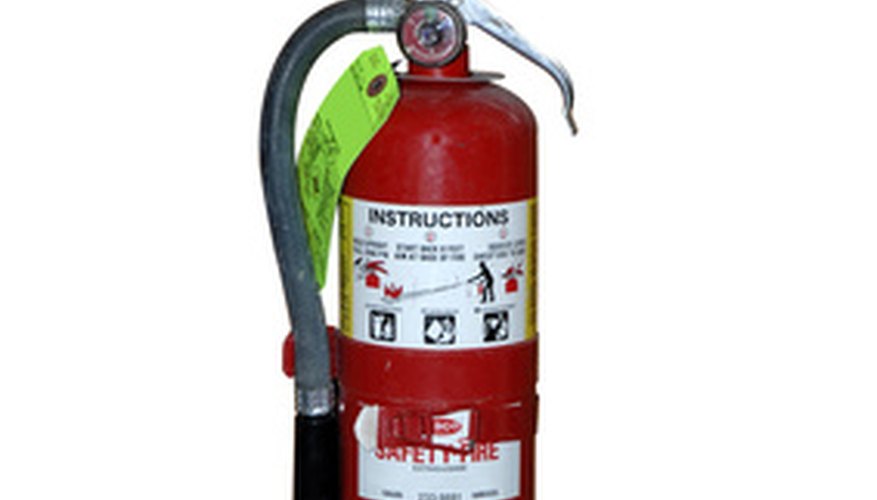 Fire extinguishers are rated for different types of fires using standards created by the National Fire Protection Association (NFPA). Class A fires are fueled by ordinary combustibles: materials made from paper, wood and some plastics.

Class B fires are made up of combustible liquids: paint thinner, gasoline, flammable liquids, grease and oil. Class C fires originate with electrical equipment.

Electrical outlets, circuit breakers and appliances.
---
Dry Chemical Rating
Dry chemical fire extinguishers are rated for either Class ABC or Class BC fires making them an ideal choice for the home. Fire safety experts recommend a fire extinguisher be kept where fires are most likely to start, such as the kitchen and garage.


---
Fire Fighting Ingredients
The Class ABC rated dry chemical fire extinguisher contains ammonium phosphate. The Class BC dry chemical fire extinguisher contains sodium or potassium bicarbonate.

These ingredients leave a non-flammable coating on the extinguished fire, reducing the possibility of the fire reigniting.
---
Use
The NFPA recommends using the PASS code to operate a fire extinguisher, regardless of type: Pull the pin. Aim low.

Squeeze the lever. Sweep the nozzle from side to side.


---
Warning
A dry chemical fire extinguisher is just one part of a fire safety plan. Every home should have smoke detectors, a fire escape plan and multipurpose fire extinguishers to insure everyone can escape a fire safely.