How to Remove Anti Slip Stickers From My Bath
If you have had anti-slip stickers in your bathtub for some time now, you will notice the stickers have become discolored, cracked and deteriorated over the years.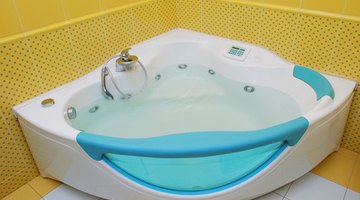 Things You Will Need
Vinegar
Nylon scrub brush
Old credit card
Whether you have deteriorated stickers that need to be removed or you simply no longer like the look and style of the stickers, it may be time to remove the stickers. Luckily, the stickers and underlying adhesive can be removed easily.
Fill the tub with 1/2 inch hot water, which will soften the sticker and loosen the adhesive.

Scrape the sticker with an old credit card. The plastic will be safe for the bathtub finish but thin enough to get under the sticker. Start at one corner of the sticker and work your way to the other side, peeling away the sticker as it is removed.

Drain the water from the tub, then pour pure white vinegar over the sticky area to loosen any remaining adhesive.

Scrub the area with a nylon scrub brush. The nylon is safe for the tub finish but will be abrasive enough to remove the adhesive. Continue scrubbing until all adhesive is removed.

Rinse the area with hot water to remove any sticker residue or vinegar solution.
Writer Bio
Mel Frank is a professional freelance writer with over 15 years of writing experience. She has completed a wide variety of writing assignments for a number of publications that include CNN and various websites. Frank received a Bachelor of Fine Arts from a prestigious university in Pennsylvania.
Photo Credits
large bathtub image by Nikolay Okhitin from Fotolia.com
large bathtub image by Nikolay Okhitin from Fotolia.com
More Articles