The Best Materials to Use as a Roof Deck
In the Twenty-First Century, you don't have to build your roof deck out of simple wood or concrete. Many new materials and options are available, depending on the budget and vision you have in mind for your exterior deck, though several durable, economic surface materials stand out above the rest.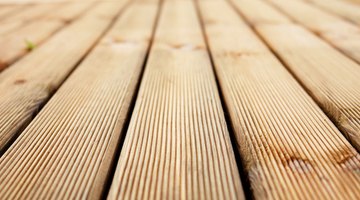 Fiberboard
For a wood-like feel to your roof deck without using actual wood, you can check out fiberboard, a manufactured composite of tiny wood fibers and resin that is much stronger and more durable than wood. According to Intermountain Wood Products, fiberboard is fire resistant and moisture resistant and cheaper than real wood. Fiberboard also machines better and lies flatter than wood. Though Intermountain Wood Products also points out that fiberboard is heavier and doesn't hold screws as well as real wood. But fiberboard comes in many different colors and thicknesses and textures, depending on your construction needs.
Rubber Roof Decks
Whatever base you decide to use for your roof deck, think about rubber as the final surface material. According to Jason Walker from flooringguide.com, rubber flooring offers you a surface that is easy to install and easier to maintain. Rubber flooring is stain- and weather-resistant and very resilient to everyday wear and tear. And for roof-top construction you can find many types of rubber with texture and excellent traction. If you want to do your part to help the environment, you can also look into purchasing rubber made from recycled products like tires.
Corrugated Metal Roof Decks
Several reasons exist as to why you might want to think about installing a roof deck using corrugated metal sheets. If your roof deck is not covered, you will need a durable surface to withstand the rain, snow, sun and other natural forces. Galvanized corrugated metal will withstand the elements with almost no future maintenance. Corrugated sheets are also simple to purchase and install, and in addition to being inexpensive (a few hundred dollars depending on the size of your roof deck), the metal reflects sunlight, which could lower your air conditioning costs. Corrugated metal also comes in many different curved and straightedge designs that can provide added traction.
References
Writer Bio
Ben Orlando has written professionally as a columnist, travel writer, education reporter and children's story author. He has a B.A. and an M.F.A., and has published stories in "The Bellevue Literary Review" and "American Drivel Review."
Photo Credits
Deck de madeira image by CarlosNeto from Fotolia.com
Deck de madeira image by CarlosNeto from Fotolia.com
More Articles