How to Clean Brown Leather
There are a number of chemical leather cleaners on the market but you can also clean your brown leather couch or jacket with a few things you already have in your home. By cleaning your leather item, it will last longer and look as good as the day you brought it home.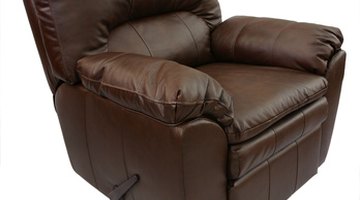 Things You Will Need
Soft cloth
Liquid soap
Water
Olive Oil
Dampen a soft cloth with water. Wring out any excess water. The cloth should be damp, not soaked.

Apply a mild, liquid soap to the rag. Castile soap or hand soap works. Rub the cloth together to work in the soap into the cloth.

Rub your leather item with the cloth. This will create a light lather.

Dampen another cloth with water and wipe away the soapy residue on the leather. Again, the cloth should be damp. Submerging or soaking leather with water will damage the leather.

Wipe the leather item with a dry cloth. Let the item air dry for a few minutes.

Apply a few drops of olive onto a dry cloth. Rub the oil into the leather to condition it. You do not want to use too much oil because then the leather becomes sticky and attracts dirt. A little bit goes a long way.
References
Writer Bio
After accidentally stumbling into a journalism class at University of North Texas, Abby Vaun has been writing ever since. She honed her skills writing for "The Dallas Morning News" and as a copy editor for Earle Palmer Brown in New York City. From Dallas to New York to L.A., she has enjoyed freelancing for 10 years and expanding her knowledge through her profession.
Photo Credits
leather rocker recliner image by James Phelps from Fotolia.com
leather rocker recliner image by James Phelps from Fotolia.com
More Articles