How to Replace the Bulbs in an Electric Fireplace
Electric fireplaces are a low-maintenance option for homeowners. Even apartment-dwellers can enjoy the ambiance of a crackling fire with an electric fireplace. They are available as both free-standing units and wall inserts, and installation and set-up is fairly simple.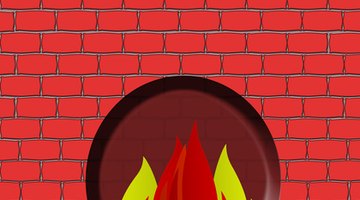 There is no need for a vent or a chimney and, with no burning logs, cleanup is virtually nonexistent. An electric fireplace has simulated flames, logs and a heater. With continuous use, the light bulbs burn out and need to be replaced.
Things You Will Need
User's manual
Screwdriver
Replacement bulbs
Turn off your electric fireplace. Wait for at least 10 minutes for the bulbs and fireplace to cool.

Unscrew the screws securing the doors to the fireplace to remove the cover or doors. Some free-standing models require turning the entire unit around and removing a back access panel. Read the user's manual to determine how to access the bulb assembly.

Lift the logs and grate out of the fireplace. You may need to remove the fireplace trim before you can take the logs out of the fireplace.

Rotate the burnt-out bulb counterclockwise to remove it.

Install the new bulb by turning it clockwise.

Reassemble your fireplace. Reverse steps 1 through 3.

Tip

Check the user's manual for the correct type of replacement bulbs for your electric fireplace.

Warning

Always be sure the fireplace is cool before doing any cleaning or maintenance.

If your fireplace uses halogen bulbs, avoid touching the glass part of the bulb with your bare hands. Wear gloves to prevent getting fingerprints and oil on the glass. The oil from your fingers weakens the glass, and the bulb could burst the next time you turn it on.
References
Writer Bio
After accidentally stumbling into a journalism class at University of North Texas, Abby Vaun has been writing ever since. She honed her skills writing for "The Dallas Morning News" and as a copy editor for Earle Palmer Brown in New York City. From Dallas to New York to L.A., she has enjoyed freelancing for 10 years and expanding her knowledge through her profession.
Photo Credits
fireplace with fire image by Kirubeshwaran from Fotolia.com
fireplace with fire image by Kirubeshwaran from Fotolia.com
More Articles