What Tools are Needed to Install James Hardie Siding?
James Hardie is a company specializing in construction supplies, especially types of siding for homes and businesses. Hardie siding has become a popular form of siding for many homeowners due to its durability, affordability and relative ease of installation.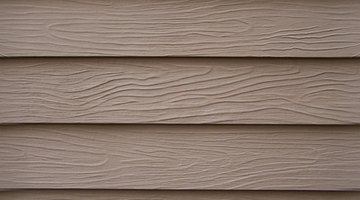 Whether you're attempting to install this siding on your own or are having a contractor do the job for you, there's a select few tools that will be needed for the task.
Shears
Cutting siding is a necessary but usually time-consuming aspect of the job. All siding installations at some point will require a large amount of cutting on individual planks to ensure proper fitting on the building wall. Typically the cuts can be done in a number of ways, but using special siding shears will accomplish the task repeatedly with limited effort and time spent. The shears look and operate almost identically to tin snips. They are available in manually operated handheld model or more expensive and more powerful pneumatic styles. The pneumatic ones are best-suited to professionals who will require them for multiple hefty jobs throughout the year. The shears will allow you to make measured cuts smoothly in one pass while leaving a minimal amount of dust and residue. They'll also make it much easier to make difficult cuts such as rounded corners for fitting siding around arches or vents.
Fastening
The method of fastening the planks to the exterior wall is very important in the installation process, and the proper fasteners are key. Only exterior siding or roofing nails should be used on James Hardie siding. Aluminum fasteners or staples should never be used as these will not provide an acceptable hold on the siding. For securing the siding to a standard wood framing, a 2-inch galvanized steel siding nail or an 11-gauge roofing nail should be used. Either style is acceptable, but use care to get galvanized stainless steel as these will hold up in the exterior elements for long periods of time. Steel framing requires more specialized nails designed for installing siding into steel. These nails should be at about 2 inches long to ensure they penetrate into the steel a sufficient amount. While a standard hammer can be used to install the fasteners, because of the sheer amount needed on each plank, a pneumatic nail gun is recommended. This will greatly speed up the fastening process and ensure that each nail is properly driven flush into the siding.
Caulk
In order to ensure full waterproofing of the siding as well as protect the interior walls of the building from the elements, proper caulking is required after installation. The caulk used should be specifically designed for use on exterior walls, as standard interior caulk likely will deteriorate and give way under the continuous stress of the elements. Choose a latex exterior joint sealant, tubes of which are commonly sold at most hardware stores. Caulk should be applied along the outer edges of each plank of siding, where the siding itself terminates into the trim of the building's walls or eaves. A caulking gun will be necessary with each tube of caulk to ensure a steady stream of sealant is dispersed evenly down the entire length of surface being caulked.
References
Writer Bio
Brian Walker is an experienced writer who has contributed content to a number of print and online mediums, including major players in the financial, sports and news markets. His work has appeared on eHow.com, Associated Content, Yahoo and even financial news outlet TheStreet.com. He is a graduate of the University of South Carolina and holds a Bachelor of Arts in broadcast journalism.
Photo Credits
house siding 3 image by Psycience from Fotolia.com
house siding 3 image by Psycience from Fotolia.com
More Articles