Olefin Vs. Wool Rugs
Table of Contents
Olefin and wool represent two rug fibers that are very different. Compare the pros and cons of each type of rug to discover the right one for your home. Base your rug-making decision on several factors, such as lifestyle needs, rug maintenance requirements, initial cost of the carpet and long-lasting durability.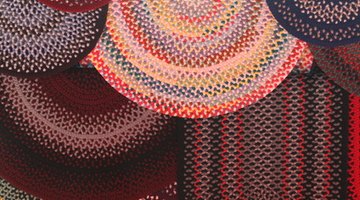 Fiber Facts
Olefin is a versatile, petroleum-based synthetic rug fiber that is also known as polypropylene. Rugs created with olefin fibers are economical and also more aesthetically pleasing than many commercial nylon-based carpets. Alternatively, wool is a natural fiber that comes from sheep or lambs and is a long-lasting, enduring favorite material for weaving a variety of rugs. Earth-friendly wool carpets typically come with a significantly higher price tag than their olefin counterparts. Wool fibers are often blended with man-made fibers to create a more affordable rug when compared to 100 percent pure wool rugs.
The Pros
Synthetic olefin rugs are made from color-fast synthetic fibers that won't bleed or run. Because olefin is stain-, static-, and bacteria-resistant, rugs made with olefin are well-suited for both indoor and outdoor use. On the other hand, natural wool rugs are innately flame-retardant and have strong, elastic fibers, making wool rugs extremely durable. Wool makes cozy, soft rugs that won't show soil or show dirt as easily as some synthetic fibers. The wool fibers also naturally accept dyes well to fashion richly colored rugs.
The Cons
Because olefin is not very resilient, when the fibers are crushed, they don't spring back quickly to their original shape, and can look worn and old. Avoid placing olefin-based rugs in high traffic areas of your home, such as hallways, stairs and family rooms, due to their crushed appearance with heavy use. Even though wool rugs are enduring favorites among all types of carpets, they do have negative qualities. You can expect to pay a hefty price tag for wool rugs, and they aren't well-suited for all lifestyles because they can incur stains if spilled liquids aren't blotted up quickly.
Rug Care 101
Vacuum both olefin and wool rugs regularly to remove loose dust, dirt and other small particles. Choose rug-cleaning products specifically formulated for wool carpet fibers and void saturating your wool rugs with cleaning solvents or scrubbing the fibers excessively. For olefin carpets, you can choose between a variety of cleaning methods, including steam cleaning, dry cleaning, and dry foam cleaning. Acquire a professional carpet cleaner to thoroughly clean both your wool and olefin rugs periodically.
Personal Preference
Even though both olefin and wool rugs each have positive and negative features, one type of fiber isn't better than the other for every home environment. For example, if your love wool rugs but they don't fit your budget or lifestyle needs, choose economical olefin rugs to accommodate your existing decor and home needs, as well as your finances. In addition, select an olefin or wood rug to suit your personal preferences, such as style, color and pattern.
References
Writer Bio
Meg North has written professionally since 2008 as an online copywriter for the Sturbridge Yankee Workshop. She also published a short story in "The Maine Scholar." North has a Bachelor of Arts in media writing from the University of Southern Maine.
Photo Credits
handmade rugs image by Earl Robbins from Fotolia.com
handmade rugs image by Earl Robbins from Fotolia.com
More Articles