Good Carpet for a High-Humidity Area
Humidity is hard on carpeting because the fibers never get a chance to dry out completely. This creates a breeding ground for dangerous and damaging mold and mildew. Some carpets are better suited to withstand moist conditions than others, but the best are ones that can actually be removed and dried as needed.
Throw Rugs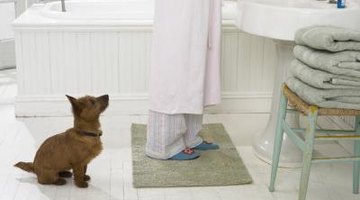 Wall-to-wall carpeting can't be taken up and laundered or hung out to dry. Throw rugs, either small ones that cover the main traffic areas or a large one that extends nearly to the edges of the room, can occasionally be removed for cleaning and drying. Cleaning removes any dust or bacteria that might encourage mold or mildew growth, while drying the rug removes the moisture that mold and mildew need in order to live.
Olefin
Carpet made from olefin, a synthetic fiber, is often designated for both indoor and outdoor use because it is made to withstand moisture. While in the past indoor/outdoor carpet was rough and unattractive, new technology and manufacturing processes have created synthetic carpet that is much closer to standard indoor carpeting. A carpet made from olefin is suitable for use in rooms with high humidity since it resists moisture as well as the growth of mold and mildew.
Other Synthetic Fibers
While synthetic fibers such as polyester and nylon are not as durable as olefin in high-moisture conditions, they are much more suited to high-humidity areas than natural fibers. This is because mold and mildew don't feed on synthetic fibers, but will take nourishment from natural fibers. In addition, many manufacturers use special treatments on synthetic fibers that inhibit the growth of mold and repel water. Check with the manufacturer to determine whether any special treatments have been applied to the carpet you are considering that will help it withstand high humidity.
Padding
The right carpet used with the wrong padding in a high-humidity area can lead to problems. Choose a padding designed to withstand moisture and repel bacteria. Standard foam padding is not intended to do these things, so mold or mildew can grow underneath the carpet, either between the padding and carpet or between the padding and subfloor. This can go unnoticed for some time, until a musty odor appears. In the meantime, mold spores released into the air can cause allergy and health problems.