How to Repair Faded Leather
Leather is a very desirable material for modern furniture due to the strength and pleasing aesthetics the leather gives the furniture. Unfortunately leather can sometimes fade due to age or excess sunlight, and if that happens, it is important to know how to restore that leather sofa of yours back to its best.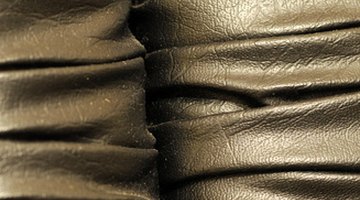 Wash the sofa in preparation for the restoration. Fill a basin with warm water and a little dishwashing detergent, and dab a clean cloth in the water. Rub the cloth over the leather, paying special attention to any area that is particularly faded. Dry with a new cloth.

Apply a recoloring balm to the faded area. The balms for leather are available in a wide range of different colors so it will be easy to find a tone that matches your sofa. Simply massage the balm into the faded area in a gentle circular motion. The leather absorbs the balm, so leave it overnight to dry and it will be completely safe to sit on again.

Use a color repair kit. If the balm is too subtle, or has not had the desired effect, you should purchase a color repair kit. These kits come with small bottles of leather paint, which you apply using a paint brush or even a cotton swab, depending on the size of the faded area.

Talk to an expert. If your own restoration attempts have not been successful and you are not happy with the results, then hire a professional to work on it. Restoring faded leather can be a tricky task, and there is no shame in having to talk to an expert.

Ensure that the sofa is not exposed to too much sunlight. An excess of direct sunlight in the leather can cause the color to fade, so by occasionally drawing the drapes or moving the sofa to a shaded area you may be able to preserve your repaired color for a longer period of time.
Things You Will Need
Cloth
Dishwashing detergent
Water
Basin
Recoloring balm
Color repair kit
Paint brush
Cotton swab
References
Writer Bio
Alan Temple has been writing since 2007 and has published articles for "The Scotsman" and "The List." He now works in the media department of Motherwell Football Club. Temple graduated with honors with a journalism degree at Napier University in Edinburgh, Scotland.
Photo Credits
leather image by Zbigniew Nowak from Fotolia.com
leather image by Zbigniew Nowak from Fotolia.com
More Articles