Directions for Making a Bar Out of a Piano
A piano, to some, is an instrument with limitless potential that has provided listeners with entertainment for centuries. However, despite this long musical history, you may see a completely different use for your piano: the perfect bar.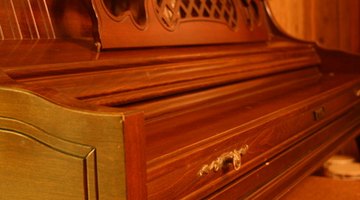 Things You Will Need
Adjustable wrench
Screwdriver
Hammer
Wood glue
Saw
8 foot wood plank, 1-by-4 inches
Plywood plank, 8-by-4 feet
Nails
Careful planning, and delicate crafting, can give a piano a second life as a bar for holding glasses, liquor, and other beverages. Consider turning your piano into a bar as a classy decorative piece in your household.
Remove the top lid that encases the strings of the piano by unbolting it from the hinges. Set the top to the side.

Remove the iron plate that holds the strings from the back of the piano by unbolting the bolts that connect it to the body of the piano. The iron plate is very heavy, and should be removed with the help of another person.

Disconnect the sound board by unscrewing the screws that hold it in place.

Remove the keys from the piano by sliding them carefully out of their space.

Cut the 1-by-4 plank to the width of the aligned piano keys, leaving 1 inch of room on each end of the plank in order to secure it to the piano. Glue the piano keys to the 1-by-4 plank. Save the extra plank material to create a shelf in the piano.

Nail the plank with the piano keys into the original position in which the piano keys sat.

Cut the plywood to fit the back of the piano, in order to close off the open back. Nail the plywood into position.

Create a shelf in which to place bar items using the extra wood plank material. Nail the shelf in place.

Reattach the lid of the piano to the top of the frame.

Tip

You can sell the iron plate of the keyboard to a scrap yard.
References
Tips
You can sell the iron plate of the keyboard to a scrap yard.
Writer Bio
Aaron Marquis is a University of Texas graduate with experience writing commercials and press releases for national advertising agencies as well as comedy television treatments/stories for FOX Studios and HBO. Marquis has been writing for over six years.
Photo Credits
piano image by Allyson Ricketts from Fotolia.com
piano image by Allyson Ricketts from Fotolia.com
More Articles