How to Design a Bathtub Made of Ceramic Tile
A ceramic tile bathtub can give a warm and earthy feel to a bathroom that can't be duplicated with a conventional white porcelain tub. Designing your own ceramic tile tub or tub surround can save you a lot of money and get you the bathroom you've always imagined.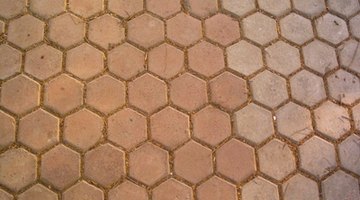 Things You Will Need
Paper
Pencil
Ruler
Measuring tape
Colored pencils
Properly selecting the right size and type of ceramic tile can give you a beautiful and practical bathroom.
Measure the Space
Measure the space in the bathroom where you're placing the bathtub, using a tape measure. Determine the length, width and height you have available for your design. Don't get carried away and take so much space for your bathtub that the bathroom becomes crowded.

Draw a representation of the space on a large piece of paper. Make three scale drawings representing a front view, side view and top view of the space where your bathtub will go. This will give you a template from which to draw your ideas.

Draw in the location of the faucets and drain on your sketch. These can be moved, if necessary, to accommodate your new bathtub design, but this will add substantially to the work and expense of your renovation.
Design Your Bathtub
Measure the size of your ceramic tiles if you already have them. If you don't, determine the size you will be purchasing. You can then draw the tiles to scale on your drawing and determine how many you will need. If possible, create spaces so you don't leave partial tiles; this will reduce the amount of tile cutting and also make your surfaces look more symmetrical.

Draw all the elements of your bathtub design into your drawing, including plumbing fixtures, towel racks, steps, and walls. In addition to drawing everything to scale, include measurements in your drawings to make them easier to follow.

Color your drawing using colored pencils to give yourself a better feel for what the finished bathtub will look like.
Check out this related video.
References
Writer Bio
Jagg Xaxx has been writing since 1983. His primary areas of writing include surrealism, Buddhist iconography and environmental issues. Xaxx worked as a cabinetmaker for 12 years, as well as building and renovating several houses. Xaxx holds a Doctor of Philosophy in art history from the University of Manchester in the U.K.
Photo Credits
tile image by TNK from Fotolia.com
tile image by TNK from Fotolia.com
More Articles