How to Install a Bootz Steel Bathtub
Porcelain plus steel equals strength and beauty. Bootz Industries has been making porcelain-coated steel fixtures since 1979, although the company began in 1937. Many home improvement stores carry these tubs for sale to contractors and handy homeowners. Since bathtubs can be awkward to carry, it is best to have someone on hand to help install the tub.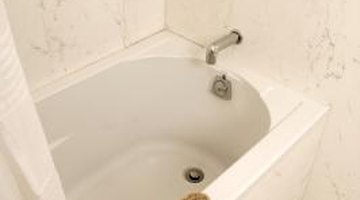 Step 1
Remove the old tub from the bathroom. Use the screwdriver to help remove faucets and the overflow shroud. Use the utility knife to cut away old silicone. The drain wrench is used to remove the old drain. You will probably have to remove all or part of the wall above the tub, as the wall covers the flange on the tub.
Step 2
Inspect the ledger boards that the rim of the tub sits on. If these boards look water-damaged or are showing signs of rot, replace them. The ledger boards help to support the tub when it is full of water.
Step 3
Inspect the p-trap that the drain attaches to. If it looks like it is in good shape and not showing signs of degradation, then it can be reused. If it does not look good, replace it at this point. Be sure to replace it with another p-trap, otherwise sewer gasses will continually invade your bathroom.
Step 4
Install the new tub, taking care not to damage the porcelain finish. Check for level, both back to front and left to right. Use the plastic shims as needed. Once the tub is level, attach it to the wall studs with the stainless steel screws.
Step 5
Install the drain and overflow assembly, according to manufacturer's directions. Use the drain wrench to install the new drain, taking care not to over tighten the drain, as this could damage the tub.
Step 6
Install the new walls. How this is done depends on the type of wall surface chosen. Once the walls are finished, you can install the new faucet and spout.
References
Writer Bio
Elizabeth Sobiski has been writing professionally since 2005. She provides businesses such as Burdick and Lee Galleries, Clearwater Fishing Charters and Read Finder with custom content to keep their digital and print media fresh, informative and directed to their target audience. Sobiski holds a Bachelor of Arts in English from Roosevelt University in Chicago.
Photo Credits
Jupiterimages/Photos.com/Getty Images
More Articles