What Are the Benefits of Melamine Kitchen Cabinets?
Melamine is a term that refers to a manufactured type of plywood. Sheets of paper are mechanically injected with a type of resin that can bond to the surface of particleboard without the use of an adhesive. Melamine is used to make everything from kitchen cabinets to residential and commercial furniture and shelving.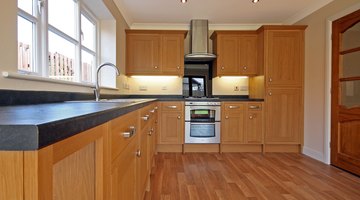 Although melamine may not be the first choice of every builder, it does offer some distinct advantages.
Durable
According to ProfessionalDoorDealer.com, melamine cabinetry has become a popular choice in kitchen cabinetry due in part to its durability. Melamine is typically made by bonding resin-soaked paper sheets to particleboard. Although the strength of particleboard can vary depending on its grade, the hardened resin in the melamine sheets creates an impenetrable outer layer that resists chipping, scratches and dents. Melamine cabinets can stand up to heavy usage in any kitchen area, and the melamine surface wipes clean. Melamine cabinets can also stand up to heat and will not fade or crack over time, so they continue to look good year after year.
Choices
Melamine is also a popular choice because it offers so many choices to homeowners, designers and builders. Melamine sheets are traditionally made out of paper, which means that any color or design that can be conceived of on paper can be turned into stylish kitchen cabinets. Most melamine cabinets are available in basic white, but they can also be made in any color of the rainbow. Some melamine cabinets are made to look just like real wood cabinets, complete with authentic wood grain patterns and rich wood tones that appear natural. Some melamine dealers offer as many as 100 or more different colors and styles of preassembled cabinets or building materials that can be turned into cabinets.
Cost
The cost savings of melamine offers a significant benefit over other cabinet materials such as wood. ProfessionalDoorDealer.com indicates that melamine cabinetry can offer savings of up to 50 percent less than the cost of traditional wood cabinetry. For those who prefer the look of authentic wood, melamine can still offer a cost-savings alternative without sacrificing real wood. Melamine can be used only on the inside of the cabinet construction, and real wood veneers can be applied to the exterior. The combination offers the look and feel of a natural wood product without the expense of solid wood milling and cabinet construction.
References
Writer Bio
Sara Melone is a mother of three and a graduate of UNH. With prior careers in insurance and finance, photography, as well as certifications in fitness and nutrition, Melone draws directly from past experience and varying interests. She contributes with equal passion to birth journals, investment blogs, and self-help websites.
Photo Credits
Gordon Ball/iStock/Getty Images
Gordon Ball/iStock/Getty Images
More Articles