What Stores Carry Precor 2000?
Manufactured by Zoecon, Precor 2000 is a pesticide treatment to eradicate ants, cockroaches, fleas and ticks. The aerosol spray contains precor IGR, permethrin and phenothrin to kill adult fleas and prevent future infestations for up to seven months.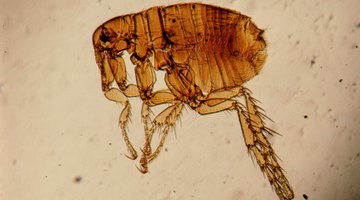 Because Precor 2000 is a product for professionals, only pest control companies can purchase it from distributors. However, there are a few retail options for consumers looking to buy the product and use it at home.
Leslie's Swimming Pool Supplies
Established in California in 1963, Leslie's Swimming Pool Supplies has more than 600 retail locations in 35 states, and also has online and mail order retail operations. Leslie's has partnered with Zoecon to retail Precor 2000, and as of November 2010, locations in Florida, Georgia and Texas carry Precor 2000 spray. A 16-ounce can of spray sells for $20, although though prices may vary from location to location.
Pet Supplies Online
Web retailer PetSuppliesOnline.com is based in Columbus, Ga. As of November 2010, the company ships orders for $4.99, no matter how large or small the order. PetSuppliesOnline.com ships to all 50 states, but shoppers in Alaska and Hawaii don't receive the $4.99 shipping discount. PetSuppliesOnline.com retails a 16-ounce can of Precor 2000 for $18.95, plus shipping and applicable taxes.
Amazon.com
This online megastore carries a number of Zoecon pest control and insecticide products and as of November 2010, Amazon.com retails Precor 2000 from its distributor, Pest Control Outlet. A 16-ounce can of spray retails between about $17 and $24, plus shipping, handling and applicable taxes. According to the listing, the spray can cover up to 2,000 square feet and the low-odor formulation dries without leaving a residue behind.
References
Writer Bio
Based in Atlanta, Pamela Henman has been writing marketing- and advertising-related articles since 2006. Previously, she covered arts and entertainment news for "AUC Magazine," "The Signal" and "The Urbanite." She received a Bachelor of Arts in communications from Georgia State University.
Photo Credits
E. Pollard/PhotoLink/Photodisc/Getty Images
E. Pollard/PhotoLink/Photodisc/Getty Images
More Articles