Kobalt Air Hopper Gun Parts
Table of Contents
An air hopper gun is a tool that allows a painter to affix either paint, texture paint or paint patterns to interior drywall by using a sprayer and compressed air. Kobalt, a tool company affiliated with Lowe's, offered the Kobalt Air Hopper Spray Gun Texture Drywall tool to accompany their Kobalt air compressor.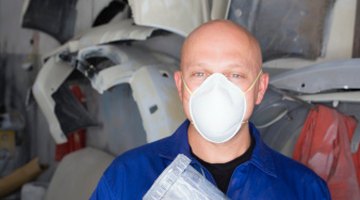 This gun had steel and brass parts along with a plastic hopper, but because of poor design has been discontinued by Lowe's.
Bi-Pod
The steel bi-pod kickstand was a steel rod stand that not only supported the gun but made it easy for the user to load the paint into the hopper. However, it would snap off during the filling of the hopper if it was pushed forward.
Trigger
The long-hold steel trigger pulled easily.
Hopper
The hopper was a container attached to the top of the gun and held the mixture to be applied. This large plastic holding tank had a plastic handle for easy filling and maneuverability.
Nozzles
The Kobalt Air Hopper Gun came with 4.0 mm (just over 1/8-inch), 6.0 mm (just under 1/4-inch), and 8.0 mm (5/16-inch) nozzles to accommodate materials of various viscosity.
Paint Flow Regulator
The paint flow regulator connected the hopper to the gun. This part adjusted the flow of paint material into the gun.
Shut-off Valve
The shut-off valve located in the paint flow regulator stopped the flow of material quickly and completely so the user had control of the paint.
Air Control Valve
The air control valve located at the back of the gun allowed the user to regulate the rate that the material in the hopper flowed out of the gun.
Air Cap
The air cap sealed the air control valve. Kobalt air hopper gun users complained that this cap was easy to lose during cleanup.
Clamps
One clamp kept the flexible hose of the unit from the air compression tube in place. One band clamp held the paint flow regulator to the hopper and another held the paint flow regulator to the gun. These band clamps occasionally came loose during the operation of the gun, allowing the paint mixture to gush out of the unit, resulting in a lot of clean up time and expense.
Flexible Hose
The flexible air hose was mounted to the rear of the gun in back of the kick stand and connected the unit to the air compressor.
Gasket
A rubber gasket in the hopper base sealed the connection between the hopper and the paint flow regulator.
References
Writer Bio
Tonya Yirka is an Indiana-based writer who has focused on writing for online publications since 2009. She contributes many articles about Chinese culture and traditions to various websites. Yirka, a retired teacher, has a Bachelor of Science in education from Indiana University and attended classes toward a Master of Science in educational studies.
Photo Credits
Jupiterimages/Comstock/Getty Images
Jupiterimages/Comstock/Getty Images
More Articles