Miller Welder Onan Engine Specifications
Table of Contents
Founded in 1929, Miller Electric Mfg. Co. produces welding equipment in Appleton, Wisconsin. Miller Welders used Onan engines which were produced exclusively for its company's welding equipment and Lincoln Welders, another welding company.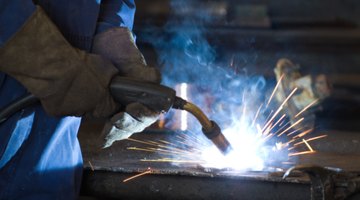 Today Cummins Onan no longer manufactures engines but still services Miller Welder Onan engines and provides replacement parts. The Miller Welder engines, like the Onan OHV 20, were built to strict specifications.
Dimensions
The Onan OHV 20 engine is 12.48 inches, or 317 mm long and 18.78 inches, or 477 mm., wide. The final dimension, height, comes to 18.70 inches, or 475 mm. The engine weighs 96.9 pounds or 44 kg. Its displacement measures 39.90 cubic inches.
Horsepower
The engine has a rated output at 3,600 rpm of 20.5 horsepower. Its continuous output at 3,600 rpm is 16 horsepower. With a compression of 8.4:1, the Onan generates a maximum torque at 2,200 rpm of 32.7 foot-lb. The engine's bore, or diameter of the cylinder in which the piston moves up and down, measures 3.15 mm. The stroke, or the distance the piston moves, is 2.56 mm.
Fuel Use
When the Onan engine is at full load it consumes 1.96 gallons of fuel per hour. At one-half load the consumption drops to 1.14 gallons per hour. For three-quarter load the engines uses 1.52 gallons per hour.
Oil Use
The Onan engine has a capacity of 1.64 quarts of oil. It comes equipped with a full-flow spin-on oil filter along with full-pressure lubrication. To avoid any damage it comes equipped with a low oil pressure cutoff switch.
Special Features
The Onan OHV 20, representing over 50 years of engine design experience, features cast iron cylinder sleeves. It also comes equipped with a large dual-element air cleaner. Other feature include a pulse-type fuel pump, fixed-speed governor, electronic ignition and 12-volt solenoid shaft starter. Each engine carried a three-year limited warranty that could be expanded to five years. The engine met all government environmental standards at the time of its manufacture. According to Cummins Onan, the age and condition of the engine, its use and maintenance all determine whether or not it still complies with emission regulations.
Writer Bio
Robert Alley has been a freelance writer since 2008. He has covered a variety of subjects, including science and sports, for various websites. He has a Bachelor of Arts in economics from North Carolina State University and a Juris Doctor from the University of South Carolina.
Photo Credits
Jupiterimages/Photos.com/Getty Images
Jupiterimages/Photos.com/Getty Images
More Articles